American tradition is something that travels. From music, fashion, film and food to popular icons and reality tv – The United States is the epicentre of global cultural influence. Political views aside and while many things have changed over the last 12 months, it is hard to see a future where that global influence doesn't exist.
Next Sunday marks another American tradition that has achieved crossover to global culture – The Superbowl. The city of Tampa in Florida will host Superbowl 55 between the Kansas City Chiefs and Tampa Bay Buccaneers. The big story on the field is the quarterback face-off between legendary veteran, Tom Brady and the "new guard" of the game, Patrick Mahomes.
There. That's it. The height of my knowledge of the NFL. What I do however know a bit more about is advertising and looking at it from that perspective, this is arguably the world's biggest stage for showcasing brands to a global audience.
The average global viewership is around 100m people globally. The average cost for 30 seconds of airtime in the ad breaks is north of $5m and here's one for you – since 1967 when the first Super Bowl took place, the total advertising revenue generated by the game has totalled in at $5bn. For big brands, it is quite literally, the place to be seen.
This year however, the brand presence at the game is going to be a bit different. The global impact of the coronavirus combined with concentrated political, societal and economic friction in the US has seemed to unsettle many of the Superbowl advertising mainstays.
P&G, Budweiser, Pepsi and Coca Cola (historically the "MVPs" of in game advertisers) will be sitting this year out. Ford, Audi, Hyundai, Olay and Little Caesars will be joining them. Now, technically Pepsi will have presence through sponsorship of the halftime show (this year's performer is Grammy-winning Canadian artist, The Weeknd) and Anheuser-Busch will have Bud Light and Michelob ULTRA sub-brands visible, but this will be the first Super Bowl in 37 years without an in-game Budweiser commercial. And it's the first time in 20 years that neither Coke nor Pepsi bought an in-game Super Bowl ad for their flagship brands.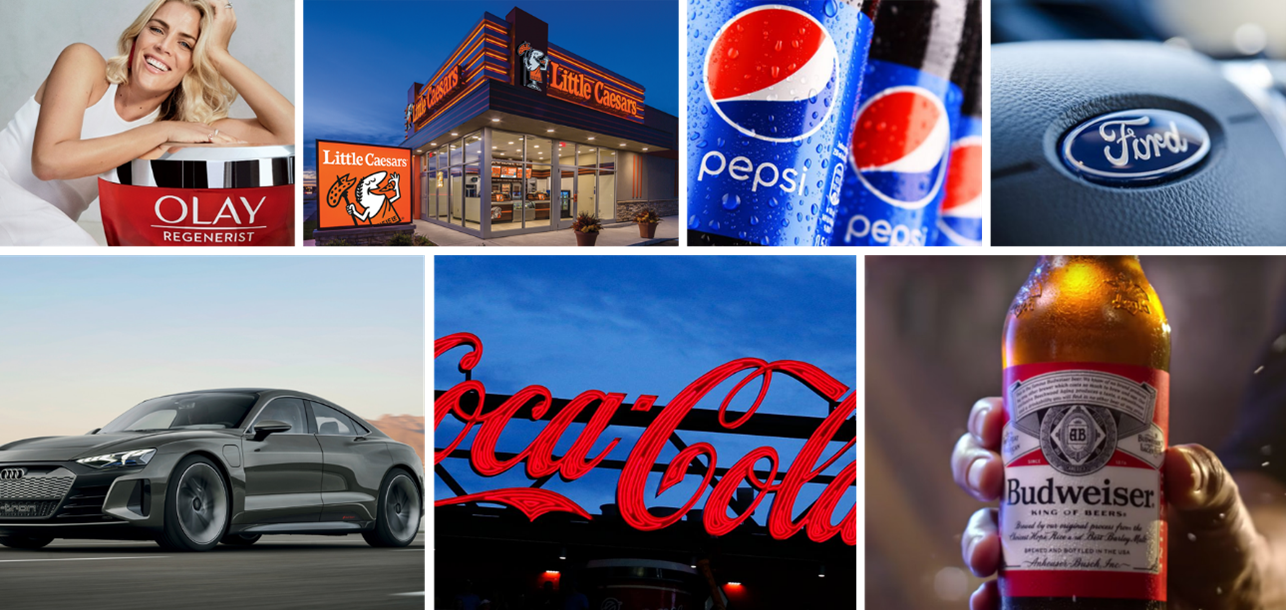 Now I don't know much about "football", but in advertising terms that is quite the hail mary!
Conjecture and opinion point us to a few reasons for this strategic shift. Substituting their expenditure on COVID relief funding (the noble play), fear of missing the mark on the tone of their advertising (the measured play) or 2020 with its lack of time and shooting restrictions to produce something worthy of the big game (the likely play). No matter how you skin it, 2020 is the reason for their absence.
That all said, Viacom (the guys that book the ads each year) filled the breaks by 27thJanuary 2021 (which is roughly around two months later than usual) and didn't have to drop the cost. So, with all these household brands on the bench, who is taking centre stage?!
Food delivery service DoorDash (Deliveroo to you and I), online marketplace Mercari and online freelance platform Fiverr, which have benefited from people spending more time at home, will all make their marks by entering their own Super Bowl ads for the first time.
Huggies will also air their first-ever advert during a Super Bowl with its second-quarter spot featuring babies born on game day. Burrito giants Chipotle, job website Indeed, Tik Tok's opposite number Triller (look them up, I had to) and even plant food, Miracle Gro are all locked in to advertise to millions across the world this Sunday. But what does this tell us about the state of advertising in 2021?
First, the obvious. The unique Super Bowl 2021 advertising line-up is reflective of the global economy's fractured recovery. The brands that are advertising this year offer a snapshot of the type of companies thriving in our Covid-19 reality.
Secondly, "Digital Darwinism" in 2020 clearly had its winners. The opportunity for businesses that are in an early stage of their brand maturity to advertise on the world's biggest stage shows that for many, a commitment to digital transformation during the pandemic paid off. For those brands, their presence at the Super Bowl should be considered a victory lap for defying what will easily be one of the most challenging and concentrated periods for business growth in modern history.
And finally, this is evidence that some things never change. Even for growing digital-first, DTC and Gig-economy fuelled brands, the principles of effectiveness are universal. Share of voice, grows market share, so get your brand right in front of the biggest audience you can find!
I wonder where these new players in the Super Bowl advertising line up will be next year?