It's All About Storytelling
Following her first marathon, our Senior Account Manager, Johanna McGuigan, takes a look at how skilled storytelling made a big impact on her amazing running experience!
Awards season is upon us. Amongst the movies fighting it out for the top awards, one above many others stands out, not simply because it features advertising at its heart, but because the storytelling in the film is outstanding. In Three Billboards Outside Ebbing, Missouri, the narrative shines through and grabs our attention from the outset. It is a story that tugs at your heartstrings and evokes a full gamut of emotions – sadness, tragedy, anger, empathy, and humour.
Closer to home, more awards nominations have put the spotlight upon storytelling. The SSE Dublin Marathon ran a very clever and engaging social media campaign in the run up to the 2017 Dublin Marathon, and has been nominated for its endeavours in both the 2018 Digital Media Awards and the Bonkers.ie National Consumer Awards.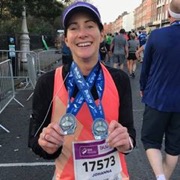 Entitled 'Twenty Thousand Stories', the emotive campaign showcased a number of the individual stories that each participant in the marathon had to tell. Stories of bravery, of triumph against adversity, of illness, of loss and grief; stories of endurance, empowerment and the victory of the human spirit against all odds.
As one of those participants, as someone running her first ever marathon, I cannot express how this campaign resonated with me – because I had a story to tell. As I was running I met and talked with many people who told their stories. The feeling of camaraderie and togetherness was undeniable.
If there is one thing that can bind us all it is a great story. Advertising has the power to transform, to influence behaviour and to create awareness – and it all starts with the telling of a story. It is at the heart of what we do in Ardmore, and everyone has a story worth telling. So let us tell yours.