5 Ways to Boost your Business' Presence on Facebook
If you're a marketer or business owner struggling to make an impression on Facebook, you're not alone! In an increasingly competitive digital landscape, it is becoming more difficult to reach your target audience via social media. However, by making a few simple changes to your social media strategy you can drastically improve your business' presence on Facebook. Check out our top tips to help you catch your audience's attention…
Feature your Customer Base
There is a reason why user-generated content is king – it attracts awesome levels of engagement. You can effectively turn your fans into brand advocates by encouraging them to share imagery, preferably showcasing your product or service. This type of content often boosts interaction and can provide your business with invaluable customer feedback.
Facebook wants to see that your audience is engaged; that they like, comment, share or click on your posts. If Facebook sees that your audience is engaged with your content, they will in turn increase the reach of your posts.
Check out an example of user-generated content from Protein World.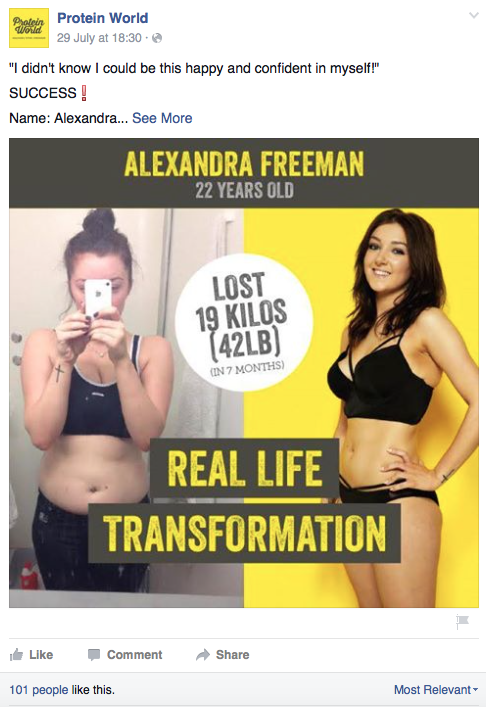 Relevant Video Content
Brands are now uploading more videos to Facebook than YouTube. Video content is huge; Facebook want it to stay that way and most importantly consumers are demanding video content. Video content will get more reach on Facebook than any other type of post so it is definitely worth that extra bit of effort. Your content should be emotionally appealing and always relevant to your audience.
In terms of a local company doing a great job with video content on Facebook, take a look at Chain Reaction Cycles.
Share the Love
Make your audience feel special! You should build a two-way relationship with your fans and reward loyalty. Run competitions, challenges and special promotions exclusively for your social media audience. Don't forget to listen to your audience; many businesses make the mistake of shouting instead of listening on social media. Use handy a tool such as Topsy to monitor your social mentions.
Quality over Quantity
Although it is important to be consistent and post regularly on your social media channels, don't fall into the 'digital word vomit' trap. Never post content for the sake of it; always ensure your post will be of value to your audience. It is much better to publish 5 great posts a week than 15 mediocre posts. Strive for quality content with a high level of engagement.
Invest in Facebook
Facebook has moved to a paid social media model and there is no getting away from this. You do not need to invest a fortune in Facebook, even promotion worth a couple of pounds can improve the reach and effectiveness of your Facebook posts.
Need help with your social media strategy? Get in touch with the digital team at Ardmore.