Dynamic outdoor. Is it worthwhile? For our client Belfast Telegraph it has been used to successfully launch a powerful brand campaign. Short answer to its validity – yes, for the right campaign.
The launch of the SSE Vaccination centre offered the timely and unique opportunity to launch Belfast Telegraphs new brand campaign. Belfast Telegraph has stayed true to its brand promise throughout COVID19 to 'Tell it like it is' – shining a light on the success and failures of those tasked with bringing us safely through the pandemic.
The goal of this campaign was to create a community focused, balanced and witty campaign which would reflect their editorial commitment, giving Belfast Telegraph a renewed sense of relevance.
Relevance is a term intertwined with many campaigns and this campaign got to the very heart of sending a relevant message. Working with the Public House they crafted the line 'Vaccines First, Politics Second.' Our task was to get this message to audiences at the most relevant time – when they were receiving their vaccine.
To ensure we were using outdoor in the right places, we mapped Vaccination Centres across NI, the routes to get to them and shuttle links. The Odyssey Vaccination centre was critical in planning due to the sheer numbers passing through this centre. To own this area, we secured Irelands largest backlit sheet to ensure the bold messaging was unmissable. Further, printed outdoor was secured across backlit panels in Belfast – targeting areas with continued footfall in spite of lockdown.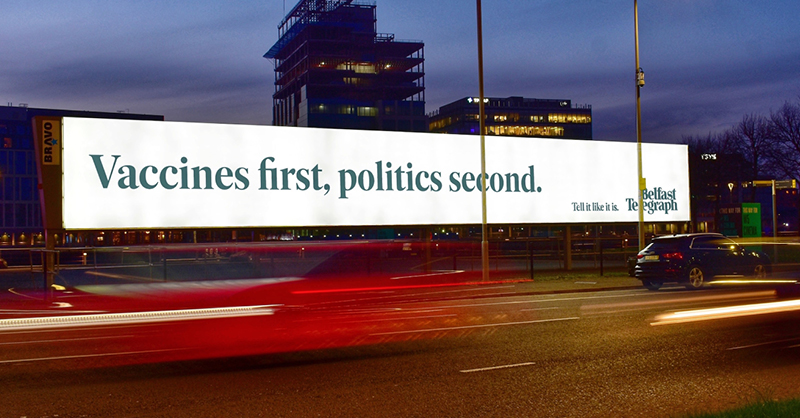 These bold sites provide strong numbers of eyeballs on adverts. However, brands need to see return on their marketing investment and in order to affect changes in readership and digital traffic to Belfast Telegraph, these static sites were complemented by dynamic digital AdShels across the country, mapped to the vaccination centres and shuttle services. The dynamic digital pulls in information on Vaccination numbers, refreshing daily. Using data in this way has allowed us to elevate a media channel, increasing its recall and relevancy of messaging. A simple tweak but one that allows us to bind in data to creative – enhancing the efficiency of the media channel.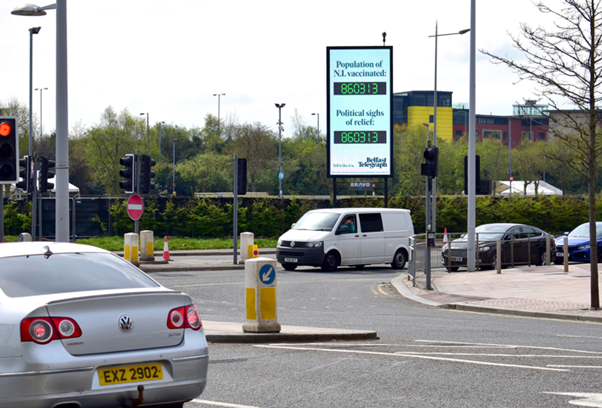 With lockdown easing we are seeing the advertising marketplace get noisy with lots of advertisers vying for attention. Using data will make your brand's campaign stand out with enhanced relevancy. Data points such as temperature, time and web links can be used to innovatively update your messaging.
Dynamic outdoor – it is worth it.