Rugby World Cup: The Adverts
With only ten days to go until the Rugby World Cup 2015, we are starting to see more and more rugby themed adverts. Check out our favourite advertising and marketing campaigns so far:
Guinness Rugby
Guinness has launched two documentary ads as part of their Rugby World Cup campaign. The adverts celebrate the real life stories of rugby legends, Gareth Thomas and Ashwin Willemse. Never Alone tells the story of how Gareth Thomas' greatest fear wasn't the opposition he faced on the pitch, but the fear of rejection from everything he had known. The film celebrates the courage of Gareth, and most importantly, the empathy and support shown by his teammates when he needed them most.
Too Big to Miss
The official Rugby World Cup advert has gathered almost 1 million views on YouTube. In the advert, Game of Thrones actor, Charles Dance delivers a rousing and patriotic 'team talk' to current players, rugby heroes and fans. The advert definitely stirs excitement for the Rugby World Cup!
Caldedonia Best - reactive advertising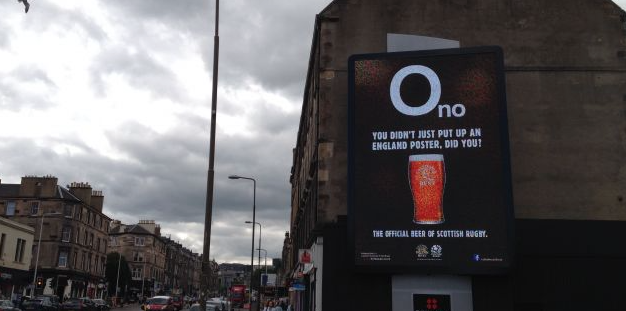 Caledonia responded to 02's recent advertising mistake with this cheeky response. The official beer of Scottish rugby launched a strategic outdoor campaign which read: "Ono, You didn't just put up an England poster, did you?".
Heineken – Virtual Stadium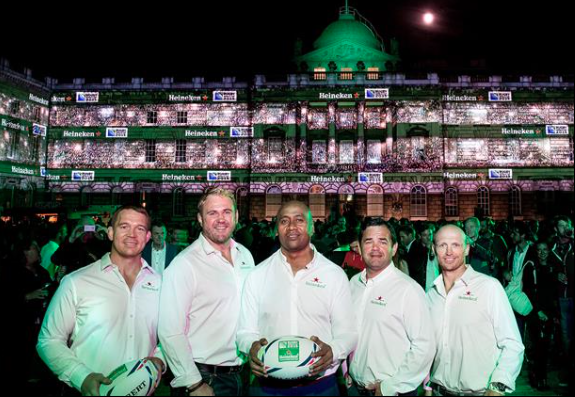 Heineken launched their Rugby World Cup campaign by transforming Somerset house into a virtual rugby stadium. The virtual stadium was unveiled when the first winner of the brand's #ItsYourCall competition tossed a coin.
Strictly For The Home Nations Only – Lucozade
Lucozade have just launched a brilliant campaign featuring some of rugby's greatest players. The advert shows international rugby players trying to emulate British traits in order to get some Lucozade. Lucozade have used the hashtag #HandsOff and the campaign had gained fantastic traction on social media.
#Morethanrugby
The Legacy Group created the #MoreThanRugby to help rugby clubs harness the power of social media and to leverage the public spotlight that will shine on rugby as a result of the Rugby World Cup.
SOME OF OUR OWN...
We worked with Translink on the launch of a fantastic competition for an all-expenses paid trip for 2 people to attend the Rugby World Cup final on Saturday 31 October! The campaign is being rolled out across multiple platforms including outdoor bus formats – supersides, t-sides and a bus hug and there will be a presence at Translink stations to garner maximum impact province-wide. A Facebook promoted post will gain further promotion in the social media space.