The best of Outdoor Advertising
Check out our favourite outdoor adverts from 2014...
Digital marketing has obviously increased leaps and bounds in the past number of years with technology constantly evolving, and the platform on which an advertisement is delivered has to complement this changing technology to meet the aims and objectives of the campaign.
With that said, outdoor, or out-of-home, advertising has to work harder than ever to engage with target consumers and we think these billboards hit the nail on the head.
British Airways #lookup
This is a very clever and intricate piece of work from Ogilvy Group, integrating live flight departures and an interactive billboard.
Cadbury - Free The Joy at Waterloo Station
Cadbury installed a massive Augmented Reality digital billboard in Waterloo station. It projected "chocolate" items onto the scene of the concourse below, interacting with people - or rather, encouraging people interact with it. People who virtually caught the items won a spot prize. This was complemented by a promoted trending hashtag #FreeTheJoy
Apolosophy - Blowing In the Wind
Check out this video from a Swedish hair products company, Apotek Hjärtat who used the wind from the passing subway trains to create a clever interactive advert.
Apotek Hjärtat - Blowing in The Wind from Ourwork on Vimeo.
Don't Cross The Road Message
This is really cool (and fun) use of digital advertising to promote safety on the roads.
Different people see different things
This advert, created by a Spanish company, to help raise awareness of child abuse is particularly hard hitting. Lenticular poster displays one message to adults and a different message to children.
AND FINALLY… IAMS - pet supplies.
This happy chappy wags his tail, because he eats IAMS dog food of course...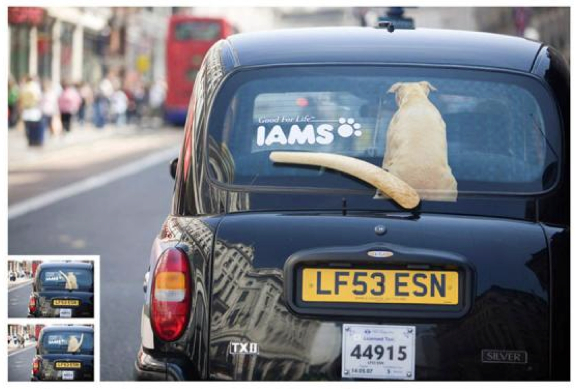 Have you seen any really cool outdoor advertising that's taken you by surprise this year?
Let us know and we'll add it to the list! Email us: info@ardmore.co.uk...