The What – Client and Brief
Samaritans needed a social strategy for their latest Children and Young People Campaign, and we were delighted to get the opportunity to lend a helping hand in supporting such a worthy cause. Given the ongoing pandemic and consequent affects, many people have been suffering with their mental health, and this particular audience needs more support than ever. The challenge was set. For this younger demographic – who are particularly hard to reach – we had to get trendy…
The Where – Placements
We knew the creative needed to be as disruptive as possible to stand out and resonate, so social was chosen as our primary media channel. Along with Facebook, Instagram, and Snapchat, we were excited to be able to use Tik Tok to reach our target audience. The campaign ran for two bursts, targeting people aged 13-24 in Northern Ireland.
The How – Creative & Execution
We wanted to ensure the campaign was as efficient and effective as possible, so our team implemented scheduling tactics across the social platforms to ensure we were reaching our audience when it mattered most. The 'Up all night' creative was scheduled to run from 10pm to 6am to purposefully capture those young people who struggle to sleep and may turn to scrolling on social media instead. The 'You. Yes, you' creative was used to allow us to implement a conversational theme, with the overall creative approach being based on messaging platform graphics.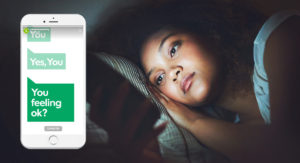 The What Next – Results & Learnings
The Children and Young People campaign was a great success for Samaritans, achieving over 2.75 million impressions across the platforms. This was the first TikTok campaign we had managed on the Client's behalf, and it achieved over 800,000 Impressions and almost 3000 Swipe Ups.
For your next campaign, it's so important to take the time to consider platforms, placements and timings to ensure your budget is used as efficiently as possible. For more tactics, tips and advice, get in touch and let's arrange a call.