Today is the day we've been telling you about!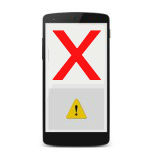 From today, Google is going to return 'mobile-friendly' websites only on mobile and tablet searches instead of the desktop versions. Reason being, desktop only websites are much harder to read (with the pinching and zooming) and Google want it's users to have a seamless journey when using their browser.
It's no surprise that mobile traffic makes up about 60% of all website traffic so Google is changing algorithms to suit the growing majority of mobile and tablet users.
Google released an announcement back in January, giving website managers and developers only two months to make the apropriate changes to websites in in anticipation of the algorithm change. If your website is not mobile friendly, unfortunately, you're likely to see quite a dip in traffic and this could affect sales, especially if your website retail based!
If you've missed this announcement, check out our last blog or run a quick test on your company's website by entering the URL into Google's Mobile-Friendly Tool: https://www.google.com/webmasters/tools/mobile-friendly/
Google has also made it quite clear what it's search bots do not like when searching for a mobile friendly website. The bots are not fans of flash, non-scalable text (that annoying pinch and zoom), content that runs outside of the width of the screen and hard to tap/click links, just to name a few.
If your website could do with a review, refresh and a reintroduction to your target market, give us a shout – we'd love to show you tangible results.