Twitter Bans All Political Advertising
Following the fallout from the Cambridge Analytical story, there has been a growing global demand for transparency and corporate responsibility from social media platforms.
Following the fallout from the Cambridge Analytical story, there has been a growing global demand for transparency and corporate responsibility from social media platforms.
It may, therefore, not come as much of a surprise to learn that as of 22nd of November 2019, Twitter will no longer allow political parties to run social media ads through its platform.
Twitter chief executive officer Jack Dorsey stated, "A political message earns reach when people decide to follow an account or retweet," Dorsey wrote in a Twitter thread. "Paying for reach removes that decision, forcing highly optimized and targeted political messages on people. We believe this decision should not be compromised by money."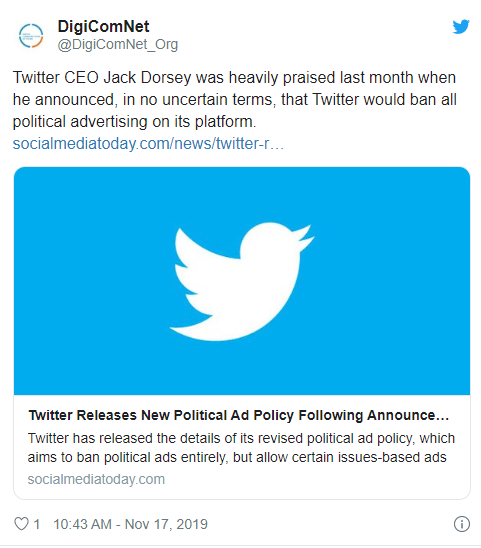 This big move from one of the world's most popular social media platforms is now leading the way in social ethical advertising, leaving others like Facebook to defend their advertising policies.
With the UK general election fast approaching on December the 12th, this new policy arrives at a crucial time. As the Labour and Conservative parties begin to battle it for exposure across social media, this new move will ensure misinformation and aggressive targeting tactics are absent on the platform.
Will politicians find a way around this?
Twitter's decision to implement this policy will only impair the paid targeting of messages, as candidates will still be able to publish their views and opinions on the platform organically.
"Twitter's decision to ban political advertising is in stark contrast to Facebook, and in line with its continued efforts to improve the health of the platform," said eMarketer senior analyst Jasmine Enberg. "But it's likely that political advertising doesn't make up a critical part of Twitter's core business. And, given the nature of the platform, people, publishers and politicians will still use Twitter to discuss politics organically, meaning that it won't fully solve the problem of misinformation."
With Twitter advertising now prohibited, political parties will be forced to increase spending on other social platforms like Facebook and Instagram. This may only serve to fuel already existing problems, as Facebook's advertising platform is more and advanced for micro-targeting and providing specific user data.
Former Cambridge Analytica employee Brittany Kaiser has described the decision from Twitter boss Jack Dorsey's as "heroic", as there is often "no other solution" for tracking and tracing political misinformation and discrimination online.
Speaking to The Drum about the problem, she noted, "It's sad to see that we've come to the point where we need to ban political advertising to protect people from being manipulated, but we do. I really hope that executives at big tech companies can make the investments they need to in order to protect us for the foreseeable future."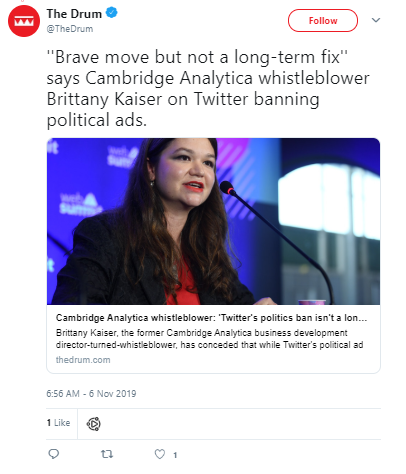 "If you work in data-driven science and communications, you'll know that the majority of your budget goes to purchasing and listening data - matching it and hygiening it - in order to have information on your consumers."
This short-term solution is expected to be the first move of many to come. As Brittany states, there's a duty to protect people from political manipulation. With some American political parties spending millions to target specific social users, social platforms must take responsibility for how their platforms are being used. It could be suggested that this applies not only to political advertising but to wider advertising practices in general.
Where does this leave third party companies?
For many businesses, social advertising is an integral part of their marketing and communications. These channels provide a wealth of unique consumer insights, allowing brands to create a more direct dialogue with consumers. If more stringent measures are introduced, this may have a significant impact on a companies' overall strategy.
The definitive future of social advertising remains unclear. But what we do know is that companies must now demonstrate transparency and accountability for their actions and policies. If platforms like Facebook can be honest and open about how they are collecting customer data and what it's used before, then trust can be developed once again.