Top Tips to Optimise Your Website
Does your website reflect your brand? Our dedicated Digital Project Manager, Aidan Harbinson, lays down five small ways your business can benefit in a big way from website optimisation.
Does your website reflect your brand?
A lot of companies have strong brands offline but are let down by their websites and online presence. Mostly, the reason for this is the perception of websites and what they bring to the table. And the biggest fear is that the early stages of a site build and roll-out can be time-consuming and costly.
The truth is that phase one of a website build is simply the first chapter of the story. Over time a continuous evolution is required that is strongly aligned with your brand's activity on social channels and your wider marketing campaign.
If you have a website that has been around a while, or even if you've just launched a new website recently but feel like it could be doing more for your business, then the following quick-tips might just be what you're looking for.
#1 Optimise your site for faster loading times
Site speed is a critical factor in getting users to complete core goals on your website. Think about it – with the rise of 4G, when was the last time you waited ten seconds for a page to load so you can buy a product you didn't desperately want online?
It also affects your ranking with search engines – Google states that pages taking longer than two seconds to load are considered slow and are ranked accordingly!
Did you know you can check the speed of your website using a number of free tools online? We like to use Pingdom as it feels more accurate in terms of what users on 4G/WiFi will actually experience.
#2 Research keywords and optimise your content
It almost goes without saying that you should keep your content fresh – users who click on a news or blog section that doesn't have any articles are highly unlikely to interact with the website. Content is also critically important for SEO.
Why not take it a step further by carrying out keyword research and incorporating that into your content as well? Start by making a list of what you think people would search for to find your business or website.
Our digital and copywriting teams have the skills and know-how to make sure your site is using the optimum words in the right sections, always adhering to the latest guidelines from Google and other search engines.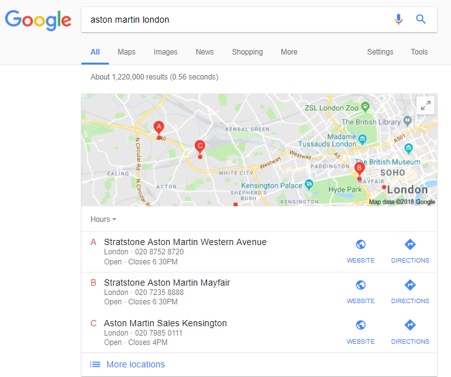 #3 Improve your local search results
You may have noticed when you type a search and put a location at the end of this that Google displays a separate list of results, similar to the image on the right.
'Local search' is becoming increasingly important to make sure that you are showing up in geo-specific search results. If your business has a physical location/s presence and you're only becoming aware of this now, then you are likely to be missing out on a massive amount of traffic!
Using geo-targeted programmatic advertising is a great way to make potential customers aware of your nearby brand, and this brand awareness will convert into sales and interest when you start appearing on local search results.
#4 Review site structure and UX against your website goals
When engaging with a new Client, often we will take it back to basics and make a list of the core tasks they want users of their website to be able to perform. This normally looks like one or all of the below:
Find out more on the services and/or products offered
Gain an idea of the size of the business, its core values, and track record
Perform a search for a specific page or item
Make an enquiry
Make a purchase
Sign up to a newsletter
This should not be consigned just to Chapter One of your online story. It helps to go back on a regular basis and ask how the website measures up to these aims.
Next, take it a step further and measure the same goals against two-to-three of your main competitors online. How it easy is it to accomplish the same goals on their websites? How much more or less impressed would you be when comparing their websites to your own?
Things to look out for:
How many clicks does it take to accomplish each goal?
How fast is the website loading?
Is content clearly signposted (with calls to action, for example) or do users have to scroll/browse through busy pages to find what they need?
Does the layout of the website remain consistent across different browsers (Google Chrome, Internet Explorer, Firefox and Safari)?
Is the website clearly laid out on tablet and mobile?
It helps to refer to Google Analytics when looking at this as well.
Are users returning to the website?
Has the level of traffic grown compared with the previous year?
Do certain pages have a high bounce rate (where the user leaves without interacting with the page)?
If you have an eCommerce website, then how does your conversion rate measure up to the industry average? Has this grown or shrunk compared with the previous year?
Phew! That's a lot to get through… but it's important that your website allows users to process information clearly and the next steps are easily accessible at all times.
If you don't think the website is doing its job here, then it doesn't mean it's time for rebuild necessarily. Why not get our design team to look at a revamp of the colours/layout while the digital experts reorganise the structure of your site?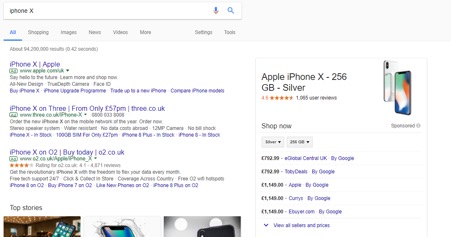 #5 Drive traffic using paid campaigns
Websites are only as effective as the traffic they attract. If you're not attracting enough users, then carrying out keyword research and an SEO campaign is only one way to get more.
If you're in a competitive space, or you want to attract more targeted results, an SEO campaign can be supplemented by paid Google Ads. These appear on search ranking pages and websites connected to the Google Display Network. For businesses with a large product range and who are competitive on pricing, Google Shopping is great way to send customers to the website are already largely qualified and ready to buy.
All this is particularly important for driving traffic to the website at an early stage, as your SEO campaign gathers momentum.
Marketing through social media channels is also great way to raise brand awareness. Advertising on platforms that stakeholders are already using on a daily basis is also much less intrusive. Paid social campaigns can also be used to great effect in attracting a wider number of individual customers to a business and can be refined to the specifics of your demographic. To ensure channels are being used consistently and aimed at the right audience, it's really important to have a social media strategy that maps out channels, target demographics and messaging.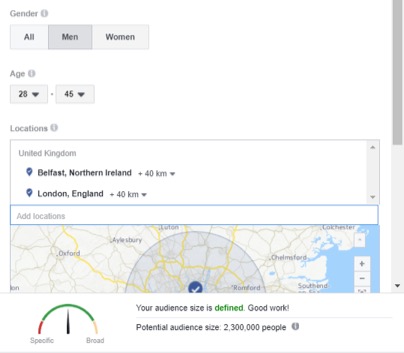 E-mail marketing campaigns are yet another way to ensure your audience is aware of latest news/events, or upcoming sale. It's commonplace nowadays for a Newsletter sign-up sections to appear prominently on the footer throughout all webpages. In most cases, this can even be integrated to automatically send subscriber details to your e-mail marketing platform. This keeps your contact list freshened up without you needing to actively maintain it. Just remember to activate double opt-in to confirm e-mail addresses – that way you don't get spammed with fake entries and you are conforming with GDPR laws coming in a few months' time!
All this will help to get you started and give you an idea of how well your website is performing in a number of key areas. However, planning an effective digital campaign that delivers spectacular results is where our team's skills and expertise come in, so why not contact us and find out more about what we can do for your business!