Worldwide Partners, Inc, (WPI), one of the world's largest agency networks with more than 60 agency partners in 40 countries on five continents, is hosting a Global Summit in Miami from the 15th to 17th of April for agency partners in their network.
The quality of a consumer's experiences is increasingly becoming the defining factor for how successful that brand is. It is predicted that by 2020, 85% of a customer's relationship with a brand will lack any human interaction. If that proves true, dynamic and personalized digital interactions will be more important than ever. But it will take more than implementing more sophisticated marketing strategies to connect with consumers. It will require collaboration and alignment from marketers, creatives, media specialists and analysts to determine how creative organizations like agencies can respond to increasing demands from their clients' marketing departments.
The Global Agency Summit is an opportunity for WPI's partners from around the globe to gather and discuss this trend, as well as other important topics impacting their network and the constantly-evolving advertising industry as a whole. It allows them to collaborate face-to-face, learn from and empower each other and innovate to help guide their clients into a new era of advertising.
"Today's agency leaders are navigating new and uncharted waters that represent tremendous opportunities for their organizations and for their clients," says John Harris, President & CEO of Worldwide partners. "Consistent collaboration with peers and with industry leaders is a crucial step in building a formidable, long-term strategy for success."
Worldwide Partners has brought together experts from around the globe to speak about topics important to the network, such as branding, data, media, ethnology, social media and creativity. Rhonda Bitterman and Mark Risis with IBM Watson Advertising, Andrew Fischer, CEO and Co-Founder of Choozle, Brian Wong, Founder and CEO of Kiip, Fernando Machado, Global Chief Marketing Officer at Burger King, David Shing, Digital Prophet at Oath, Rebecca Swift, Director of Creative Insights at Getty Images, Doug Zanger, North American Editor for The Drum, Rick Robinson, Managing Partner at Billups, and other speakers from global brands, agencies and media partners will be sharing their expertise.
The theme of the Summit is "Art + Science," signifying the intersection of creative talents, data and marketing now required to truly connect with consumers and drive business results. The Summit's setting will echo this junction of creative and data, with events taking place at the world-renowned Miami Ad School and The Betsy South Beach hotel.
"Data and creativity is not an either or proposition, but rather the formula for independent agencies to deliver relevance, differentiation and value," says Harris.
To learn more about Worldwide Partners, Inc, visit https://www.worldwidepartners.com/.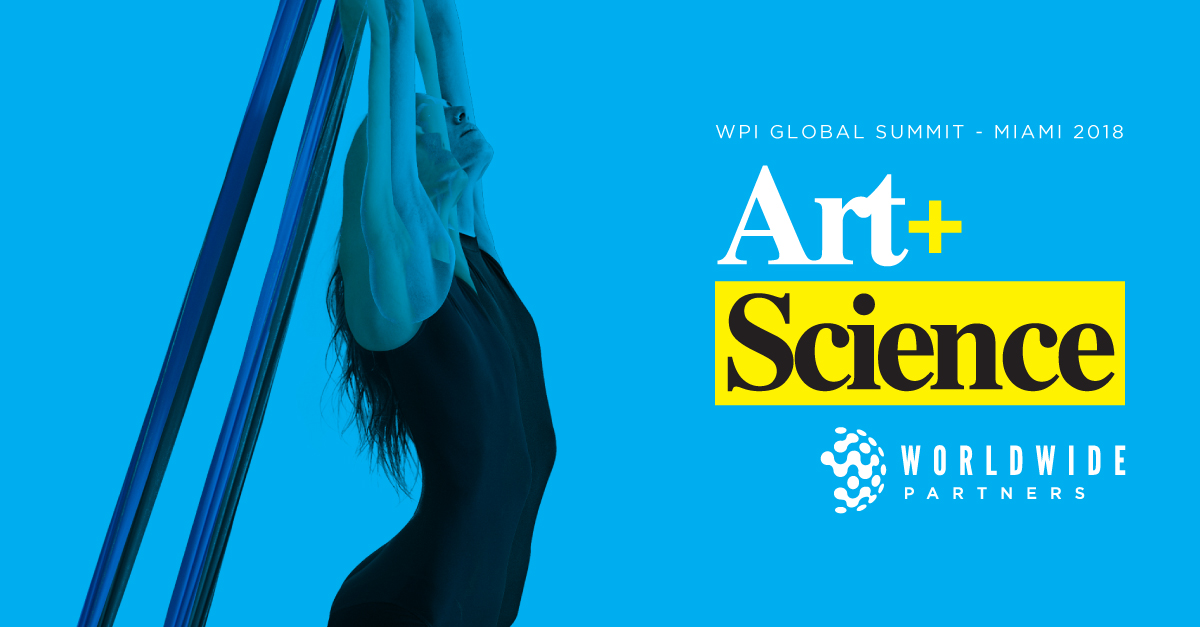 About Worldwide Partners, Inc.
Worldwide Partners, Inc. (WPI) is one of the largest networks of independent advertising and marketing communications agencies in the world, comprised of over 60 independent agencies located in 40 countries across Asia, Africa, Europe, Latin America, the Middle East and North America.
WPI serves as a hub that harnesses the creativity, local expertise and resources of the agencies within the partnership to solve problems for clients on a local, regional and international basis. Global brands including Coke, Heineken, Caterpillar, Las Vegas Tourism, Dana and 3M gain access to best-in-class, entrepreneurially-driven agencies steeped in local knowledge in all markets where they engage WPI agencies.