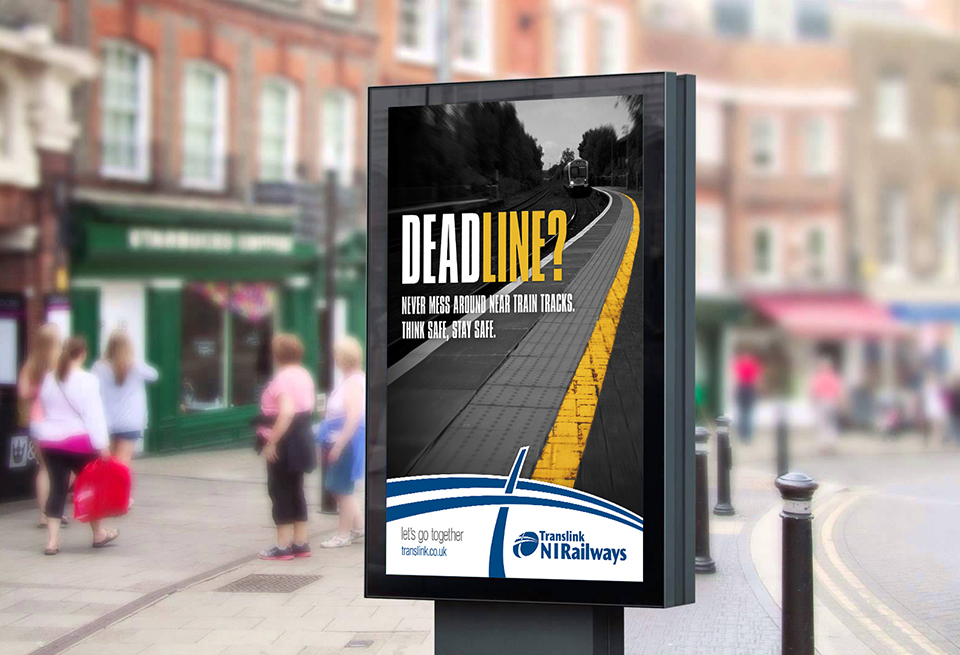 Safety is of paramount importance to Translink NI Railways and while the number of injuries and fatalities on NI Railways is minimal, it is essential to keep the public aware of the dangers that do exist. We at Ardmore are delighted to be of support in rolling out this campaign for another year.
The key objective for this campaign is "to maintain the highest standards of safety for customers, staff and the general public" and to highlight potential risks that could occur, for example on the platform, on the train, on the tracks and at railway crossings, and it was agreed that the existing standout creative is still bang on strategy.
Using Translink knowledge of key "hot spot" areas and clever media selection on our behalf, a multi-format campaign including adshels and adboxes with proximity to pedestrian level crossings and railway lines, will be rolled out. As young people continue to be the target audience, with research pointing to this demographic as most likely to gather near railways, radio stations including Cool FM and a Facebook promoted post were also employed.
Want to find out why a fully integrated advertising campaign is so effective? Get in touch with the team at Ardmore.