What's so brilliant about the creative industry is how many avenues it can take you down.
Once you've got the foot in the door, there are so many opportunities to grow and learn – especially whenever you're surrounded by great creatives.
Ardmore only fuelled my appetite to keep growing, experimenting, and trying things I'd never done before. That's why last year, myself and Carl Quinn, former Director of Photography at Ardmore, teamed up and began creating music videos for Belfast based artists. Carl always had a huge interest in filming music videos, as they enabled him to experiment differently than commercial work. As Carl had focused primarily on the aesthetic of the frame, this meant I could create, develop the story and concept as well as directing the talent on screen.
We began last year right before lockdown, and since then we have made five music videos for rising stars such as Hip-Hop singer and songwriter Jordan Adetunji, and Pop singer and producer Jessica Hammond. I had never directed before, so having such a responsibility in creating compelling films was something completely out of my comfort zone. But there's no better way to learn.
Fast forward a year, my confidence in directing had grown, and we wanted to try something new. We had built up good relationships with Jordan, so he came to us for his third video for his latest single 'Angel'. As soon as we heard the song, myself and Carl felt this would be a great opportunity to create a music video that was more in line with a narrative story rather than a performance based video.
The song 'Angel' itself is written about a girl who Jordan cared for, who broke things off with him whenever their relationship got difficult. Rather than base the video on the literal meaning of the song, we looked at it from a different angle and thought about things which may instil similar emotions. This led us to write a treatment on the issue of racism, depicted through a close friendship between a young boy and girl. The aim of this treatment was to represent the pure, innocent nature of children contrasted against racist views and naïve bigotry which has been bestowed through many generations in a country that has been set in its ways for a long time.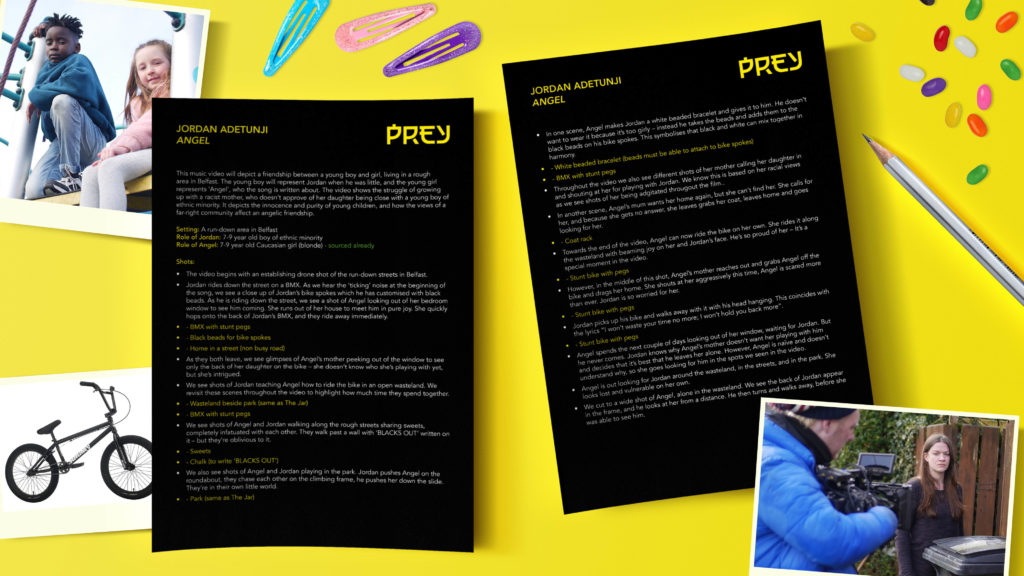 Jordan was fully on board with the treatment, so next steps were to get in touch with a production company. As this film consisted of a story, there was a lot more to consider in terms of location, art department, costume, casting and the narrative as a whole. We worked with a production company named Apex films, who were outstanding with their organisation and planning for the film. It was great being able to rely on the team to source exactly what we needed, which meant we could focus purely on the cinematography and direction.
THE SHOOT
When it came to the shoot, it was vital to get best possible performances from the cast. Erin, who plays Angel was 7 years of age and had no acting experience, so she was a little shy at the beginning. Tashinga, who plays Jordan was 10 years of age, and already had some experience in front of a camera with his father being a musical artist, but no acting experience. The children had never met, so it was really crucial we made their friendship seem genuine and heartfelt from the get-go. So, to break the ice between them, we shot scenes of Erin and Tashinga playing in the park to ease them in. A short while after, they became true friends and from then on, their chemistry was evident. This gave the pair much more confidence to perform in front of the camera and also put my mind at ease that they would be able to work together and follow my direction. Directing children was definitely a challenge, but with the end goal consistently in mind, we were able to achieve excellent performances from the both of them.
We also worked with professional actress, Christine Clark, who played Angel's mother. The casting of this role was really important – she's our villain who we want the audience to loathe, so we filtered through 40 – 50 actresses to get this role absolutely right. It was a privilege being able to work with Christine and direct such a polished performer, who played the role outstandingly.
The film was shot over two days in various locations around Belfast. We chose mainly desolate spots, to allow the angelic relationship of Angel and Jordan to shine bright against the rough surroundings. We also dressed the children in bright, 90's clothing to capture the colourful and positive minds of children, before being tainted with societal issues. For this, we worked with costume designer Lucinda Graham, who provided us with the relevant clothing for the shoot. The children's brightly coloured outfits also contrasted against Angel's mother's dull clothing, so costume was a really important factor in telling the story.
We shot the film using handheld shots, which entails a camera shake from the operators' movements and relies on the camera being supported by only hands and shoulders. This filming style can both create intimacy between characters and heighten intensity or chaos, so using this technique was very fitting for our narrative. It also makes the audience feel like a fly-on-the-wall and part of the story, as opposed to an outsider looking in with traditional filming methods such as Dollys, Steadicam and tripods. As we were portraying a significant cultural issue, it was important for us to fully immerse the audience in the story as much as we could.
THE EDIT
Once wrapped, myself and Carl worked together on the edit, and sifted through footage to ensure every shot selection was perfect. This itself was a learning for me, as unlike previous music videos, we had to piece together the narrative in a way that emotionally portrayed the story.
Thanks to the brilliant camera crew, production company and the cast, we achieved a short film we are all really proud of. It was an absolute pleasure to work on and be a part of, as well as being a great learning curve for me.
Going forward, myself and Carl plan on making more narrative-based music videos, as from this experience I've learnt how rewarding it is to tell a story to an audience – especially on such a pivotal issue. My aim is to develop skills in directing as it's something I thoroughly enjoy – from coming up with the initial treatment to seeing the final edit – it really is amazing to be able to bring a vision in your head to life.