This article first appeared in the Sep/Oct edition of Business Eye.
I've always been intrigued by the influence of advertising.
From my early days, I was aware that my 'Santa list' was completely dictated by the Argos catalogue or in later years it was Nike's rallying cry 'Just do it' that pushed me to enter my first half marathon.
Much like my own personal experience, for over a century, advertising has evolved from selling the best product and price to, more recently, selling ideals and beliefs.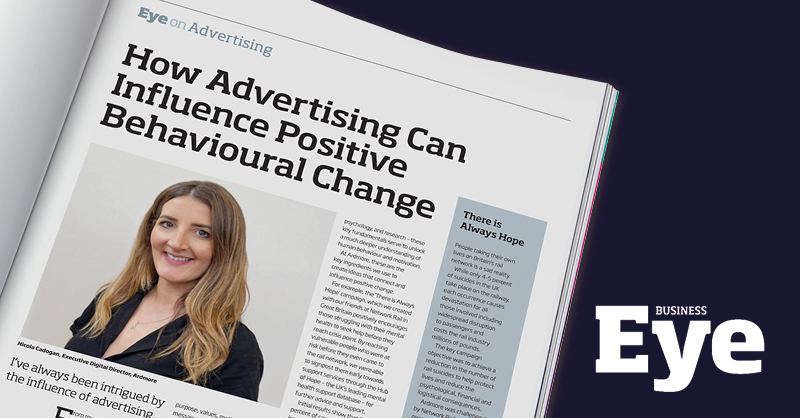 In 2021, consumers are more in tune than ever to global and local social issues. This acute awareness extends to their relationship with brands, and they expect more from them than the service or product they sell. Like never before, a brand's purpose, values, methods and message are under continuous close scrutiny, with advertising playing a key part in building a positive, long-lasting narrative between brands and consumers.
Truly great advertising can often stop us in our tracks, make us feel a range of emotions and even change beliefs and behaviour and it's this considerable influence that makes advertising so powerful. Great advertising should not only inspire. It should help shape the way you think and illicit positive behaviour change.
It is important to recognise that if great advertising can change behaviour, how those ads are created must also be informed by how real people think, feel and act. The industry has adapted quickly to this, turning its focus to consumer understanding, psychology, and research – these key fundamentals serve to unlock a much deeper understanding of human behaviour and motivation.
At Ardmore, these are the key ingredients we use to create ideas that connect and influence positive change.
For example, the 'There Is Always Hope' campaign, which we created with our friends at Network Rail in Great Britain positively encourages those struggling with their mental health to seek help before they reach crisis point. By reaching vulnerable people who were at risk before they even came to the rail network, we were able to signpost them early towards support services through the Hub of Hope – the UK's leading mental health support database – for further advice and support. Initial results show that 75 percent of campaign recognisers know and acknowledge that Network Rail is supporting positive mental health with the Hub of Hope app, which recorded a 148 percent year-on-year leap in terms of new users and app downloads. We're proud of the fantastic results this work continues to achieve and by the recognition within the creative advertising industry.
From growing our economy, to saving lives, and mobilising the world to make the sustainable choices that will save our planet, the influence advertising and communications can and will have during the next 50 years cannot be understated.
Now, more than ever, it is more important that the influence is always working to create positive change.
So, the question is – what is the change that your business wants to influence? And what's the big idea that will help make it happen.