Is your social media being anti-social?
Are you asking followers to Like and Share?
Your business could be penalised if you're not playing by the rules.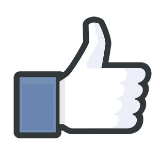 We're sure your social media or content managers are aware, but just in case they're not, we'd urge you to send this to them...
Facebook is clamping down hard on the use of 'Likes' as a mechanic to enter a competition or a give away. It has already penalised the use of 'Shares' to enter and is threatening to close any pages that take advantage of incentivising users to 'Like and Share' a page for any reason other than they like the page and wish to share it!

Advocating or adopting this 'Like and Share' functionality is bad practice for business pages for a number of reasons. It not only dilutes the brand message by putting your page in front of people who aren't necessarily interested in what you have to say, but it makes your brand appear amateurish.

The purpose of a social networking page for business is for sharing great content about your brand, products, services, staff and industry news. Social media for business is for general brand exposure and shouldn't replace a company's website. The majority of your 'online content time' should be spent focusing on updating the webiste, with Facebook posts being used to update your fans on what you've been up to.

So what's the best way to approach a competition online?

First and foremost, we recommend creating a bespoke landing page on your website, with an enquiry form ready to capture email addresses; this acts as a mechanic through which consumers enter a giveaway or competition. By creating this landing page you have a place to offer more engaging information, imagery and of course the terms and conditions of your competition. This not only builds your email database for future e-shot campaigns but it drives traffic from Facebook to your website and encourages people to browse your website – the whole purpose of Facebook for business!
Once the landing page has been created and competition form built, post an update on your Facebook profile (with image) to draw attention to the web page that is hosting the competition.
Something like:
Have you checked out our new competition? We are giving away a fantastic prize to any one who can let us know what their favourite product of ours is and why! Click here for details (link to website page).
Promoted posts boost competition entrants, but it's important to make sure you're targeting the relevant audience based on their likes, interests and you can even drill down to their age and gender.
With Google toughening up it's tolerance for spammers with the latest Penguin Algorithm update, it was only a matter of time before Facebook got involved and echoed it's sentiments on relevancy.
The best audience is a relevant audience; they will engage with you on a regular basis and are receptive to posts about your products and services. Attract the wrong audience and your posts are likely to be hidden, for being irrelevant to them.
So do your audience, your customers and yourselves a favour and remember to play by Facebook the rules, especially from 5th of November onwards!