Twitter - TV's Force Multiplier
Hi, I'm Tim and I'm a Second Screener. Are you?
Ofcom have found that mobile internet has risen to 49%, with tablet ownership doubling in the past year from 11% to 24% and more than half of UK adults owning a smartphone.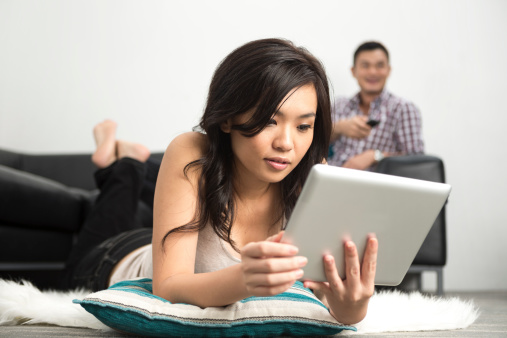 This has had a profound effect on the sofa-scape with more and more of the audience spending quality time with the TV but having a fling with their mobile device on the side at the same time.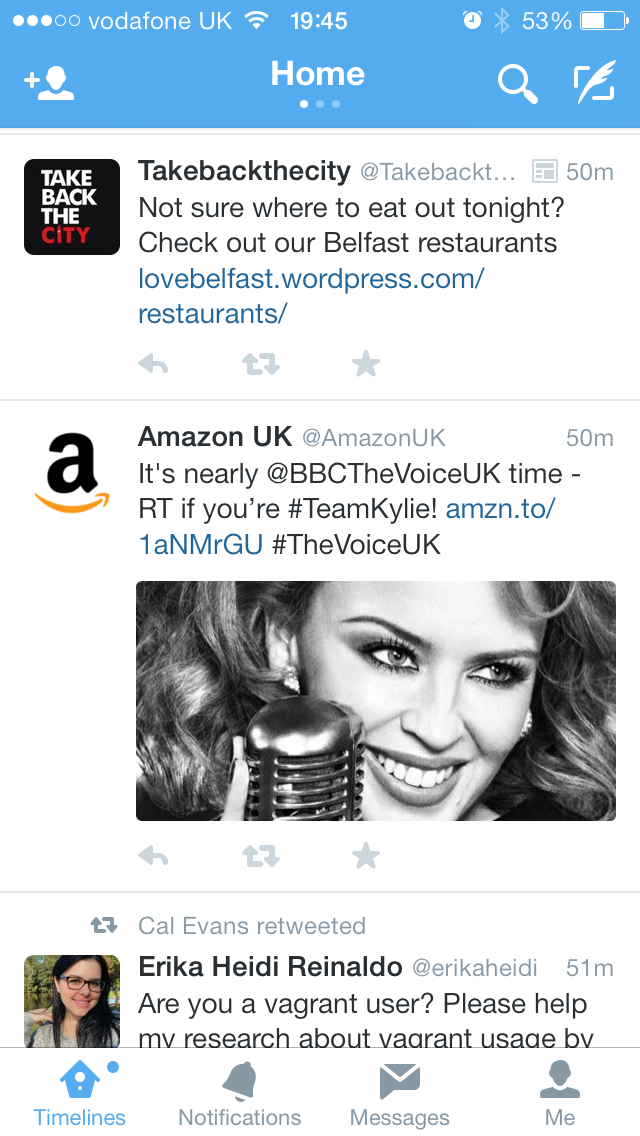 It is the truly savvy brands that have sat up and taken notice of this trend.
Twitter's head of UK broadcast partnerships, Dan Biddle, claims that 95% of all online conversation about TV happens via Twitter, and that 40% of all tweets during primetime are about TV.
Twitter themselves have concluded that when it comes to those users who commonly retweet content, or twitter amplifiers as they've been called, 90% of them will tweet about television.
It's clear that this holds massive potential for switched-on brands. The only problem is how to join the conversation.
As with traditional television, there are direct and more subtle ways to capitalise on the audience.
It's all about hitting the Tweet Spot.
TV officials, producers and advertisers are all waiting to cash in on the Tweet Spot. An event within the show that is sure to get people tweeting.
Using the twitter accounts of the show's producers, cast members or the programme's official account, it's possible for brands to build anticipation for the tweet spot. By spotting the key moment, they are able to be the first to tweet about it, bag the majority of re-tweets and therefore securing the conversation on their domain.
If there is no tweet-spot, but there is, for example, a product that is used heavily within the show, then smart retailers or manufacturers of this have found that promoting tweets with links to buying options can really get people talking.
Amazon knew how to pump up the volume of sales with a timely tweet about Kylie's judging debut on The Voice, with links to her album.
Joe Cross' "Fat, Sick & Nearly Dead" also attracted a lot of brands cashing in on the conversation. The show featured Joe, turning his lifestyle around by going on a juice only diet. Major UK retailers followed up during the next few days with tweets that they were selling the exact same or similar juicers.
However, to really squeeze the most out of the opportunity they should have tweeted during the show itself, while the conversation was happening.
Ever the early bird, Twitter have come up with a plan to make it even easier.
Twitter have recently opened up access to TV ad targeting in the UK. For a small fee they promise to promote your tweets to users they believe will have already seen your television advert.
It does this by promoting your tweets to users who already engage with specific TV shows, whether your advert is running in that show or not by utilising conversation mapping technology. So, now advertisers can easily reach Twitter users exposed to integrations, sponsorships and other innovative TV tie-ins for an additional touch point or message expansion.
Twitter estimates that this marriage of adverts and promoted tweets produces a 95% stronger message association. What's more, the advertising customer acquisition costs are estimated to be 36% lower and sales generated are 8-16% higher.
ASDA Black Friday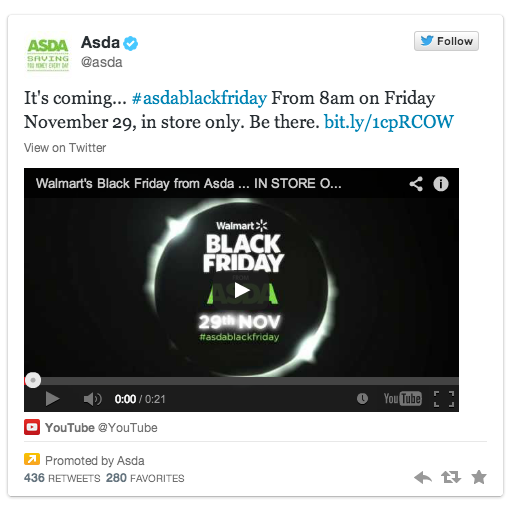 ASDA knew how to get the jungle drums going for its Black Friday sale. It used TV conversation targeting to reach viewers of I'm A Celebrity, where it ran promoted tweets to users who engaged with the show.
The result was astounding. The campaign generated 5000 mentions in five days, landed on a potential 7.5million timelines and delivered an extra 3,500 Follwers for @asda to engage with.
So, if brands want to be part of the in-crowd, it all comes down to how social they dare to be.
Let us know what you think @ardmoreadv