65% of people in Northern Ireland say that they will do more online shopping this Christmas due to Covid-19. (Source: Cognisence Belfast)
Also, half of people plan to cut back on their spending this Christmas as a result of the pandemic.
During our recent Virtual Seminar, Understanding your customer in a post-lockdown world, leading retail expert Cate Trotter reported that retail growth in April 2020 is as much as four times stronger for businesses with both offline bricks and mortar and eCommerce offerings.
Conclusion?
To protect and grow your sales this Christmas and beyond build an omnichannel strategy with both physical stores and footfall and an eCommerce growth plan.
Enter the ArdmoreCommerce Growth Loop…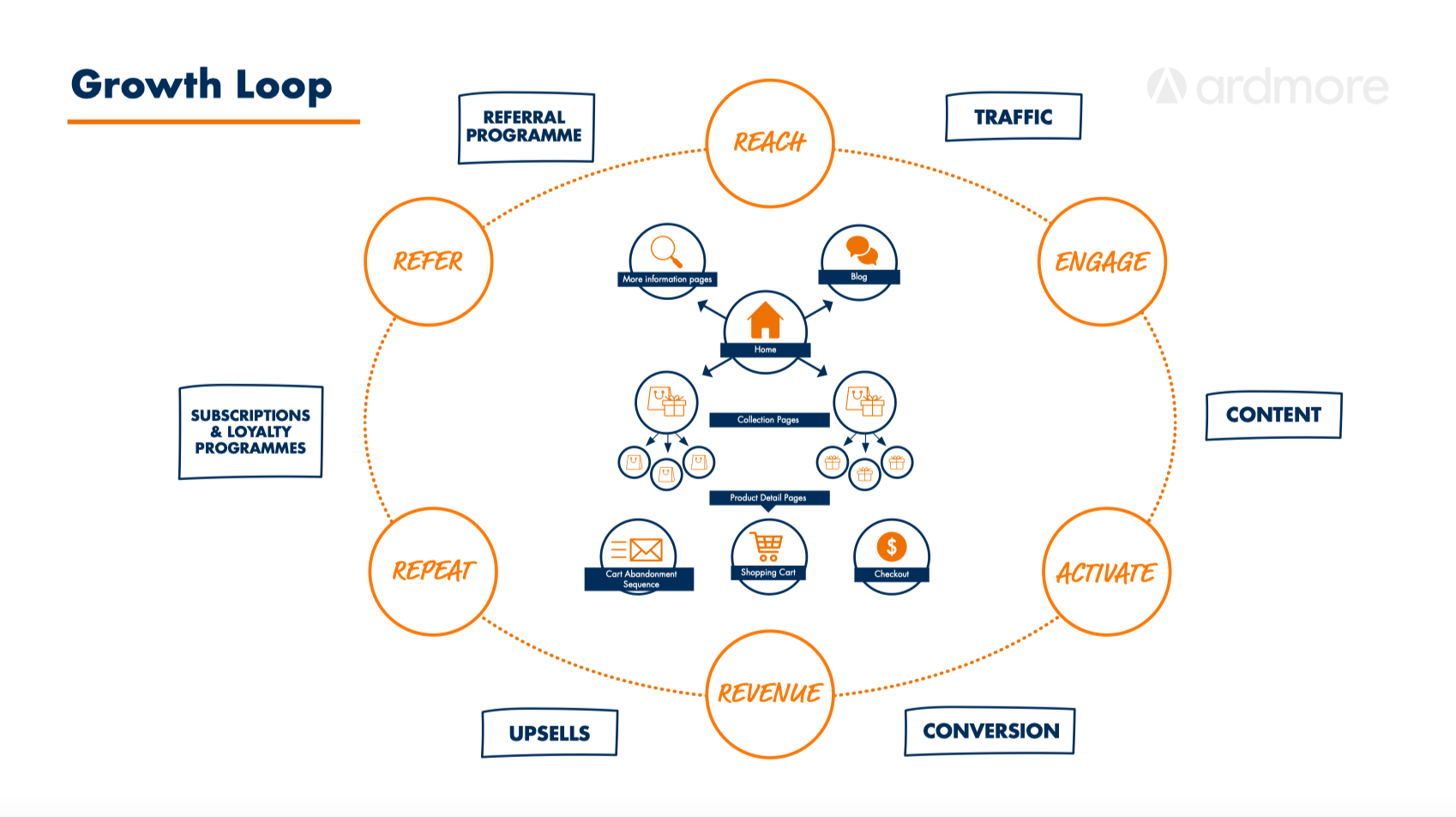 An ArdmoreCommerce Growth Loop is a holistic online marketing system that pulls all the core online sales levers to:
• Launch an eCommerce store
• Drive traffic to the store
• Convert traffic into leads and customers
• Maximise average order values
• Drive repeat purchases
• And generate referrals.
So how do you build your Growth Loop?
8-STEPS TO BUILD YOUR ARDMORECOMMERCE GROWTH LOOP
Step 1: Identify your Who, Why, Where & How
1. WHO: Who is your ideal target audience and what result do they desire
2. WHY: Why should they choose you? Why now? How will you help them achieve their desired result? How will it make them feel? How will it make them look?
3. WHERE: Where do they congregate? How and where can you reach them?
4. HOW: How do they get what your offering? What is your sales process?
Step 2: Build and launch your eCommerce store
1. Choose a software platform upon which to build your store, for example Shopify, WooCommerce, BigCommerce or perhaps something bespoke to your needs.
2. Design it to fit your brand. Design it for mobile. Design it for conversion.
3. Create and copywrite product, collection and content pages.
4. Connect your payment processor.
5. Build a cart abandonment campaign.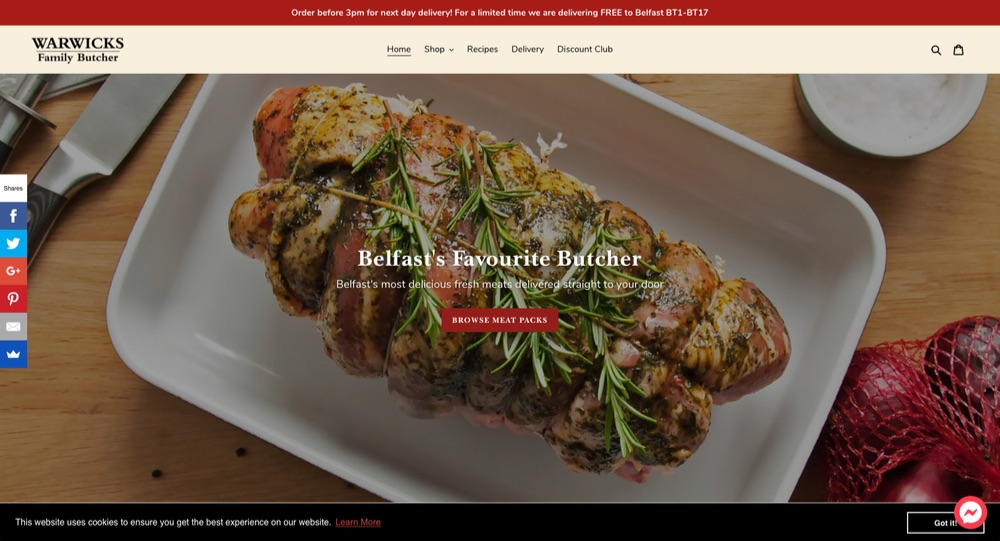 Step 3: Reach your audience and drive traffic
1. Traffic, like footfall, is the fuel behind your online sales. The key thing to realise is that traffic already exists. You don't have to create traffic. But you do have to find it and attract it.
2. This step is all about identifying where your audience is congregating and how to buy your way in (paid traffic / advertising) or how to earn your way in (organic traffic / PR / Search engines / Partnerships).
3. The goal is turn traffic you buy and traffic you earn into traffic you own. For example, subscribing to your email list, messenger list, YouTube channel, Podcast etc.
Step 4: Engage your audience with a concert of content
1. This step is all about creating belief in and desire for your offering through creative content and ideas like videos, images, audio and text.
2. To create a belief shift you can:
Tell emotionally charged stories
Demonstrate how to use your products, and the results they deliver
Provide proof in the form of research, statistics or facts
Use the testimony, story and opinions of customers and opinion leaders
3. This content may be distributed on your paid, earned or owned channels, such as your eCommerce store, email or perhaps your podcast or social media channels.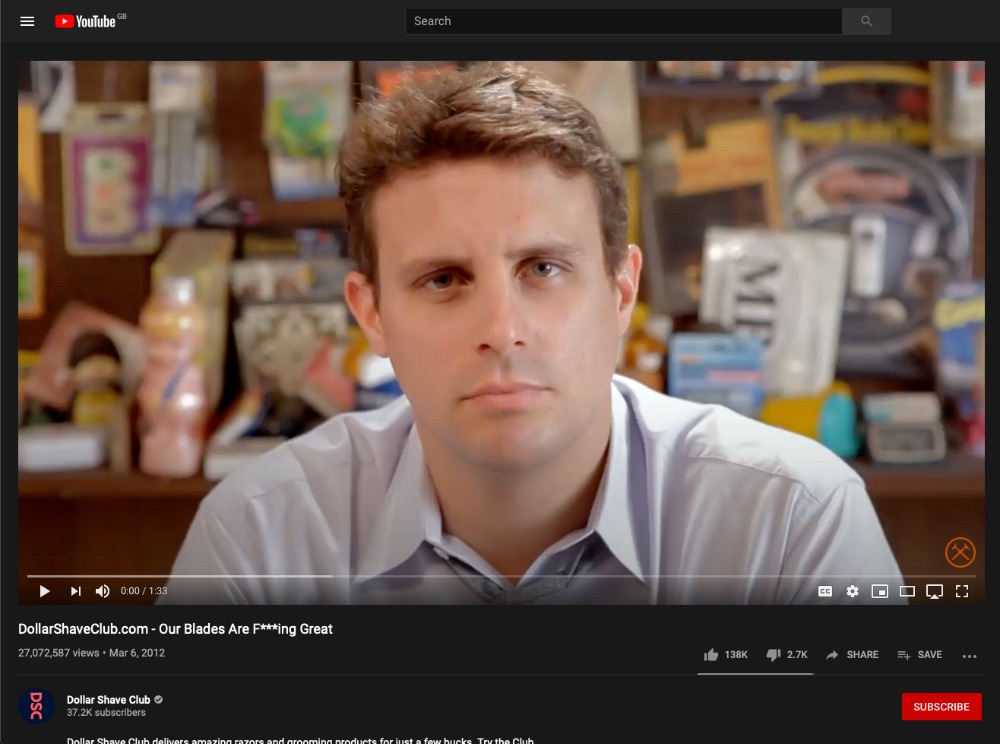 This video for Dollar Shave Club was the ignition for an amazing growth story.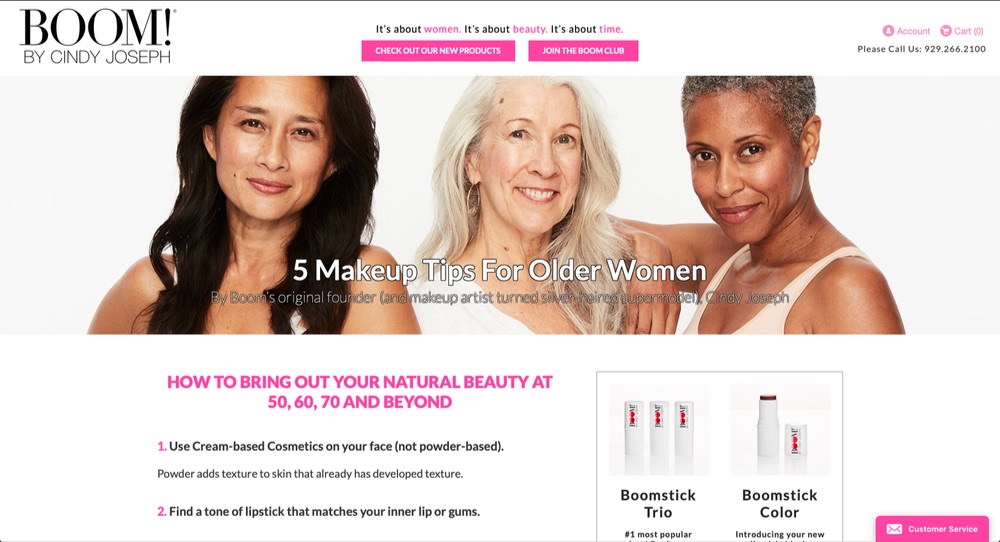 BOOM! By Cindy Joseph has invested millions in advertising dollars driving traffic to this pre-sell article to engage it audience.
Step 5: Activate your traffic to buy
1. Having created belief and desire for your products it is time to give your audience what they need. It is time to optimise your product pages and make an offer.
2. Activation and offer tactics including:
Discounts and voucher codes
Bundles and packages
Free, time limited bonuses
Real scarcity, e.g. flash sales or stock limits
Guarantees
Product descriptions and headings
Frequently asked questions
Customer reviews
Pop-ups with offers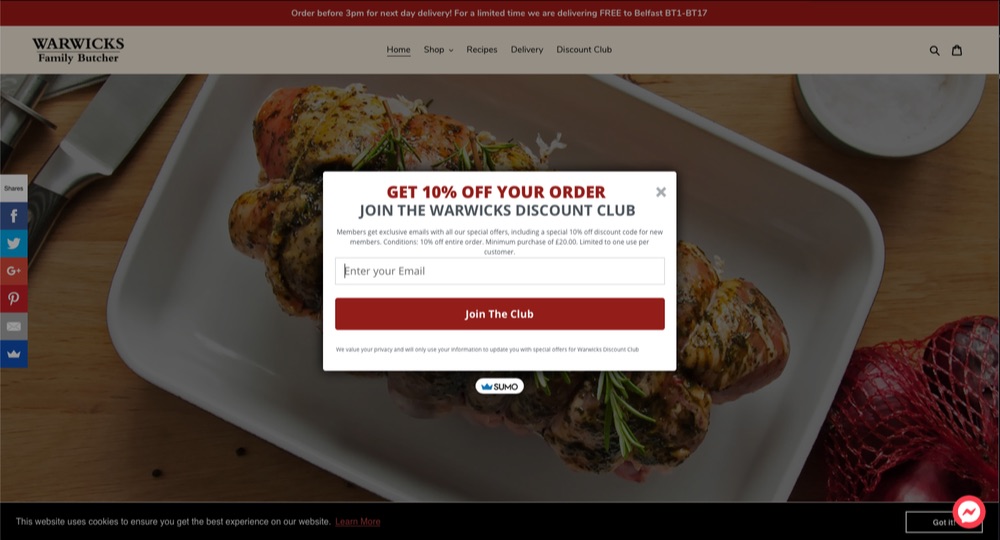 Exit-intent pop-ups are a great way to activate your traffic to subscribe or buy.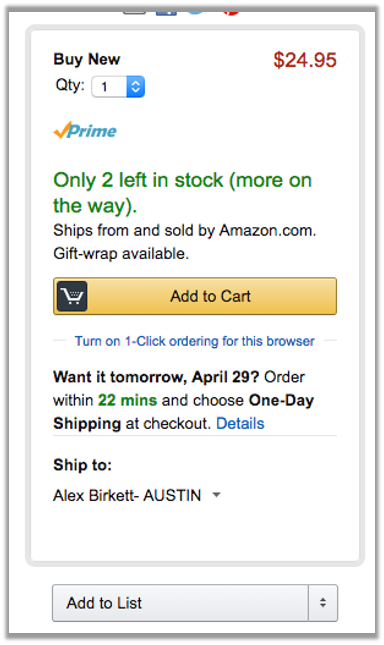 Amazon creates urgency by showing the quantity of stock left and encouraging your to buy within 22 minutes to receive your order the next day.
Before we complete the loop it is vital to realise that at this point in the sales process about 95-98% of people will not buy.
That's why it is important to create Re-engagement and Re-activation through Re-marketing advertising campaigns.
These campaign work by communicating differently with different audience segments based on their behaviour and where in the process they dropped off.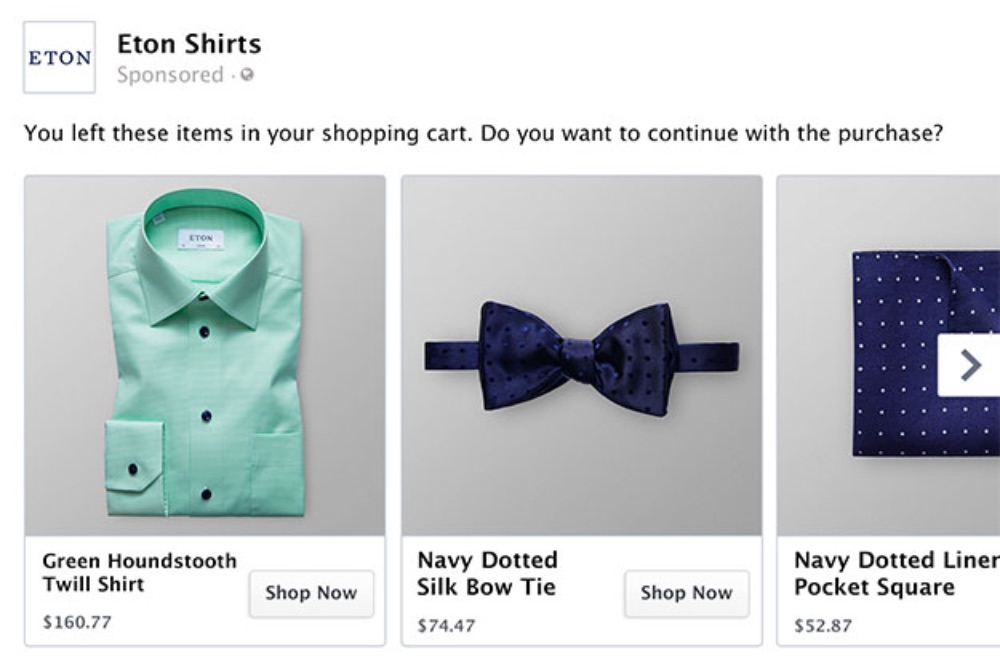 Eton Shirts uses a dynamic product ad to target customers that have abandoned their checkout.
For example, we recommend targeting the three audiences when you are getting started:
White Hot 5 – Visited the Cart or Product pages in the last 5 days.
Warm 30 – Visited the website or a product page in the last 30 days.
Warm 60 – Visited the website or a product page in the last 60 days.
We target these audiences with a variety of content aimed at building belief, desire and addressing objections.
As your growth loop matures, and your traffic and audiences grow, your remarketing campaigns may need to evolve and become a little more sophisticated and targeted. But this is a great place to start.
Step 6: Increase Revenue
"Do you want fries with that?"
1. A customer is in their hottest buying state at the point of purchase.
2. Whether you create an upsell after the purchase, using one-click-upsell technology, or you design your store well to encourage customers to add more to their cart before they purchase, the objective is always to maximise the average order value of every transaction.
3. This will enable you to spend more on traffic.
4. Effective tactics for increasing average order value include:
Bundles and packages
Pre-cart upsells
Pre-cart recommended products
Post-cart, one-click-upsells
Order form bumps (kind of like a packet of chewing gum at the checkout of a shop)
5. In eCommerce (physical products), surprisingly more of the same product at a discount is a very effective upsell offer.
6. In other businesses a good upsell offer enables the result to be achieved faster or easier for the buyer.
7. A good upsell take-rate is 15-30% and is often the difference between breaking even or better of advertising cost and not.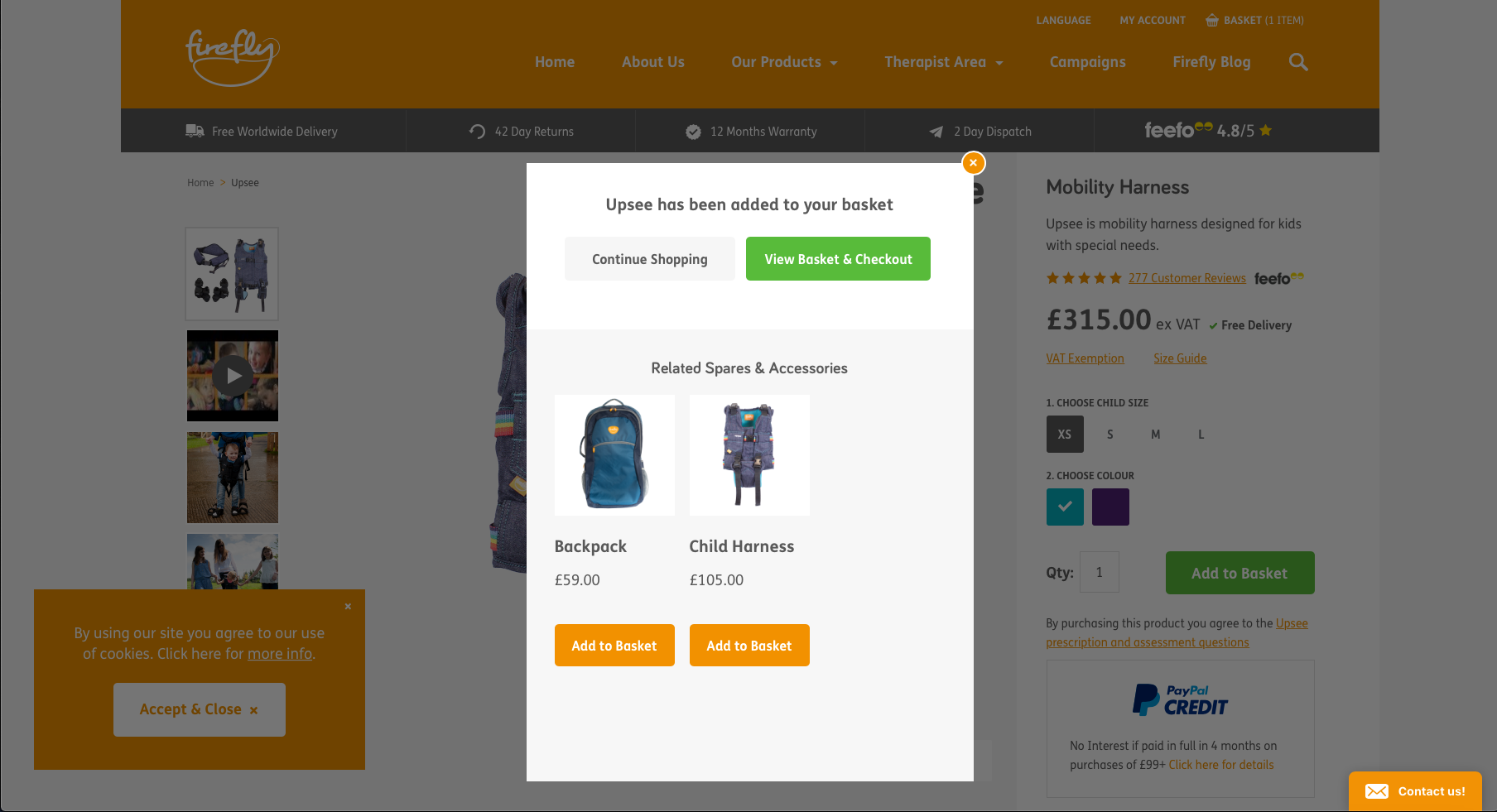 Firefly offers relevant pre-cart upsells once a product is added to the cart.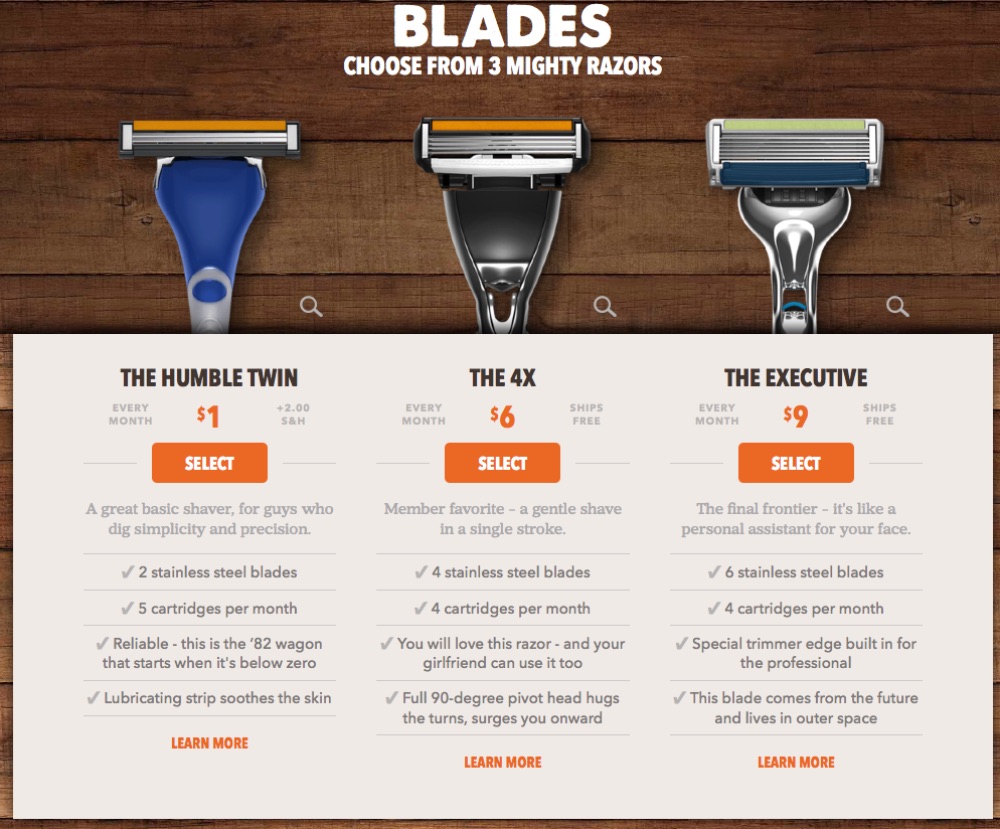 Dollar Shave Club offers a range of product bundles to increase average order value, doubling up as a subscription offering to retain customers.
Step 7: Repeat or retain
1. A buyer is a buyer is a buyer. Customers are more likely to buy again compared to how likely a non-customer is to buy for the first time.
2. The goal of this step is to increase lifetime customer value.
3. Effective tactics include:
Follow up email and remarketing campaigns
Package inserts
Incentives for repeat purchase
Subscription offers to turn customers into automatic customers
Loyalty programmes that gamify repeat purchases
Step 8: Customer referral and advocacy
1. The final step in the ArdmoreCommerce Growth Loop is good old-fashioned word of mouth marketing to influence customers to either refer your products to their friends or networks, or to generate customer reviews and testimonials.
2. Some effective tactics for this step include:
Clear product branding
Referral bonuses
Referral programme
Affiliate marketing programmes
Automate product review incentive campaigns
All underpinned by an amazing product and customer experience that leaves them wanting to tell their friends.
3. The goal of the referral step is to generate at least one additional customer for every customer required… a K-Factor of 1 or more. However, only the greatest referral strategies ever achieve this, so remember that any referral is positive and makes your marketing investment more efficient.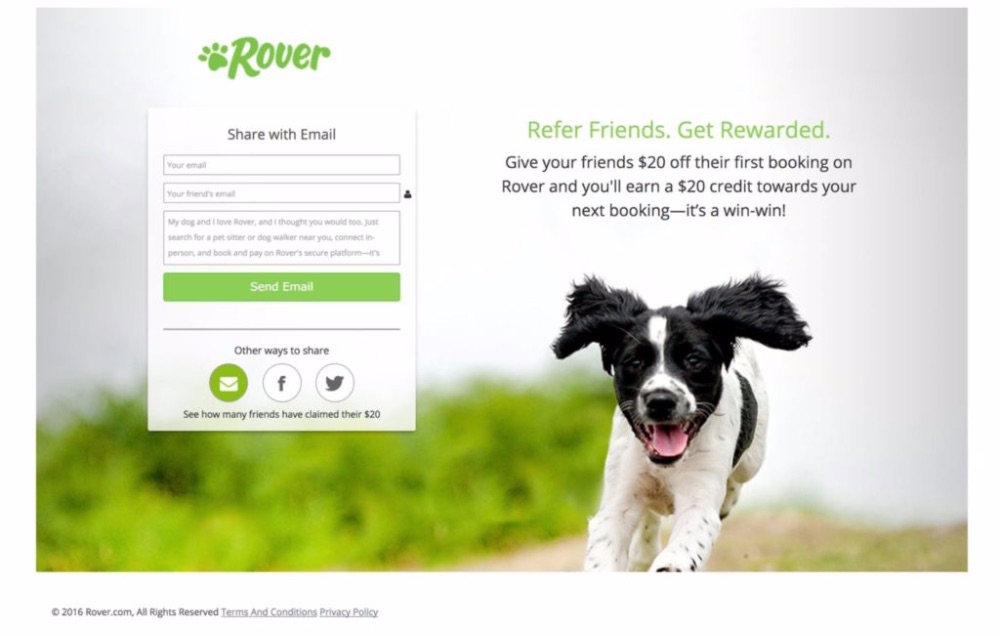 Rover offers a win-win referral program where you and your friend get credit..
OVER TO YOU
There you have it…
… how to grow and protect your sales this Christmas and beyond with an ArdmoreCommerce Growth Loop.
Need help to build yours?
Contact paul.james@ardmore.co.uk to get started with a free Growth Loop discovery call.