It's #MentalHealthAwarenessWeek! To mark the week, our Head of Brand and Culture, Ally O'Neill sat down with our Executive Creative Director, Paul Bowen, to discuss what he learned about mental health from working on Network Rail's recent national campaign, "There is always hope".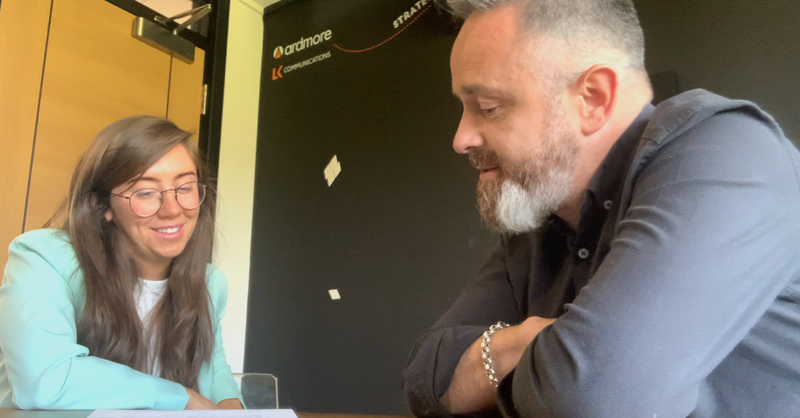 Around 1 in 5 adults experienced some form of depression in early 2021; this is an increase since November 2020 and more than double that observed before the coronavirus pandemic. For all the tragedy and challenge of the last year, one positive is that it has shone a light on the importance of good mental health at work and at home.
In the last few months, the team at Ardmore has had the enormous privilege of working with Network Rail and their charity partner, Chasing the Stigma, on a hugely important campaign designed to help people facing challenges with their mental health.
So, for Mental Health Awareness Week, I sat down with Ardmore's Executive Creative Director, Paul Bowen, to talk about what he, and the rest of the Ardmore team, learned from working on the project.
So, how would you have described your knowledge and understanding of mental health going into this project?
"It's fair to say that I was relatively ignorant. Of course, I knew mental health was an issue but I just don't think I was aware of just how prevalent it was in society and actually the big strides we have made in terms of supporting people.
Working on this campaign really brought it to the fore for me. We were working on this project for about six months before we actually started making the advertisement for Network Rail, and in that time we had the opportunity to speak to a huge number of experts and people with lived experience.
One of the most important parts of this project was that we got to work with a fantastic charity partner, Chasing the Stigma, and I think even just being around them and hearing about their work had a huge influence on our whole team."
Tell us a bit more about it. What was the campaign about and what was it trying to achieve?
"We worked with Network Rail on this project – Network Rail is the national organisation responsible for the railway infrastructure in Great Britain.
Unfortunately, there is a suicide every 36 hours on our railways, which is just massive when you think about it and it has been getting worse. The people impacted by this are typically men aged between 30-50. Network Rail was determined to do what they could to address this in some way and support vulnerable people who find themselves in a really difficult place.
To try and understand what we were dealing with, our team spent quite a lot of time at local train stations, simply watching and listening. One of things we noticed from just being in that environment, and it seems an obvious point, is that train stations are where journeys begin. It really struck a chord with us just how positive a thought that is. It doesn't matter whether someone is coming home or going to work, something is beginning – if they are going to work, they are starting their day, if they are going home they are starting their evening with their family and friends.
Although this seems like quite a simple observation, we felt it was very powerful. We recognised that train stations are places of life, energy, hope and connectivity. But yet, in amongst the hustle and bustle of day-to-day life, lots of vulnerable people are not being seen.
The purpose of the campaign was to try and connect with these people early, before they find themselves in a much more challenging position. A train station, a place where we connect, felt like a really powerful place to try and show that."
How did you go about trying to come up with an idea that would help people who maybe find themselves in a vulnerable situation?
"The main element of the campaign is a film which tells the story of a young man as he moves through a train station. We wanted to show that even the subtlest and most gentle forms of social interaction and connection, such as a particular facial expression or a smile, can really impact someone in that moment in their day.
The film shows how those small moments, those little connections, can really have an impact on someone's day.
What some people don't know is that the final connection at the end of the film with the young man we feature is actually with Jake Mills, the founder of our charity partner, Chasing the Stigma. They have created an app, Hub of Hope, which facilitates connections, so it all ties together really well and the results so far are really encouraging in terms of the number of people positively interacting with the campaign".
On a personal level, what impact has the campaign had on you? Have you learned anything?
"When you say hello to someone, and you ask them how they are – wait for the answer. I've learned just how important these small, meaningful interactions can be. I am far more aware of the people around me, and the people in my life that I can be looking out for.
I think over this journey I have also become more acutely aware of my own mental health. I think I have been used to feeling stress like many other people out there with work and other things, but this campaign has made me pause and take stock of what I have and evaluate what is really important. To be honest, I wasn't doing that before this campaign.
So I'm hugely proud to have been able to be a part of this, but I'm also hugely grateful for what I have learned."
From speaking with Paul and members of the team involved in this project, it is clear to me that this campaign has had a huge impact on our organisation. Together, we are far more aware of our friends and colleagues around us and it has opened a hugely positive conversation about how we promote good mental health as a team.
So, from all of us at Ardmore, we hope all those small connections during Mental Health Awareness Week and beyond will help you feel more aware of the importance of good mental health.