We're going to need another shelf as Ardmore picked up another internationally-recognised social media advertising award. Following on from the success of winning advertising awards at the Sharks and Creativepool, we are delighted our work with the Samaritans was Highly Commended last night at The Drum Awards for Social Media.
There was stellar competition in the category from Twitter, Great Ormond Street Hospital Charity, Upwork, and we were pipped to the top prize "by a whisker" by some baked beans on a Weetabix*. "The judges couldn't bear to let it go without a special shout out" so we walked away with the Highly Commended campaign.
*really an excellent campaign by Frank PR.
Social Media advertising for the Samaritans
Lockdown was a difficult time for many. Adjusting to the unknown was difficult – the pandemic, the uncertainty, as well as not having the freedom to see other people.
A recent report – A New and Better Normal – by the Northern Ireland Commissioner for Children and Young People, interviewed 4,385 young people via surveys and focus groups. 41% of Primary 7 respondents and 52% of 16-year-olds felt that their mental and emotional health had worsened during the pandemic and 46% of P7s and 70% of 16-year-olds felt that their education had been negatively affected. The Samaritans recognised that many in this particular age bracket might need support more than ever at this time.
During this time, the Samaritans needed a social strategy for their latest Children and Young People Campaign and we were delighted to work on such a worthy cause. Given the pandemic and consequent affects, many people have been struggling with their mental health and it was realised, that this particular audience needed support more than ever. The challenge was set, as this younger demographic are notoriously harder to reach. So, for this task, we had to think like a young person and look at their social behaviour.
TACTICAL, INNOVATIVE AND DISRUPTIVE
We knew from the offset that the creative needed to be disruptive and innovative as possible to really stand out and connect with the intended audience. Data from Kantar showed that social media use amongst all age groups increased dramatically, particularly TikTok during lockdown, so it was decided that social would be our primary media outlet. Along with Facebook, Instagram and Snapchat, we also used TikTok to reach our younger target audience.
To ensure the efficiency of campaign and to be as effective as possible, scheduling tactics were implemented across the social platforms to ensure we were reaching our audience at the time it mattered most.
UP ALL NIGHT
The campaign was called 'Up All Night' and ran for two bursts, targeting people aged 13-24 in Northern Ireland and was scheduled to run from 10pm – 6am. The logic behind this timescale was to capture the attention of the young people who struggle to sleepto insomnia, anxiety of the pandemic or struggles of everyday life. To distract themselves from this, they turn to scrolling on social media to occupy their busy minds. This type of continuous scrolling can have a further detrimental impact on young people's minds as they spiral into "doom-scrolling", where they are simply reading negative news about lockdown or seeing other's negative social posts.
We wanted this campaign to reach the young people at this low point to check in with them, so in turn they would check in with themselves.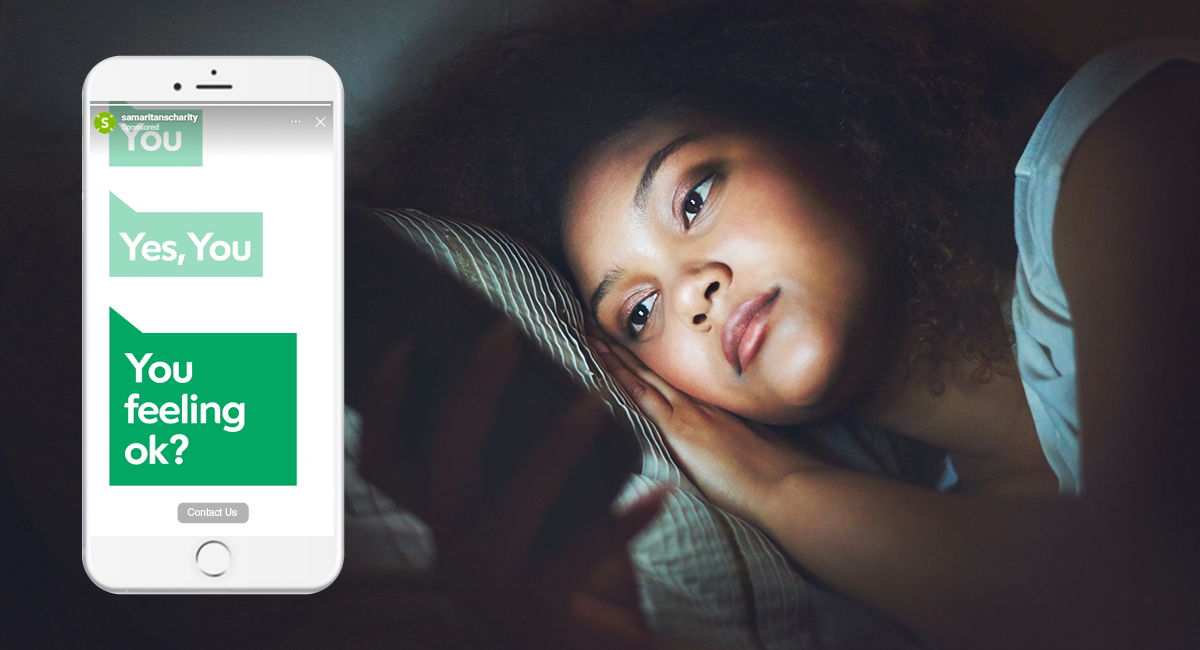 YOU. YES, YOU
The 'You. Yes, you' creative was used to allow us an implement a conversational theme to the campaign, with the overall creative approach being based on the messaging platform graphics. The campaign was delivered using an animated graphic that replicated a text message and included the sound of an incoming text. The text asked if the user was OK and reassured them that if needed to talk, there was someone available at Samaritans with a telephone number clearly displayed to call.
These graphics were accompanied with disruptive music that caught the user's attention as they were scrolling.
The focal point was a simple message to at-risk and vulnerable people… that The Samaritans are there for you when you need to talk.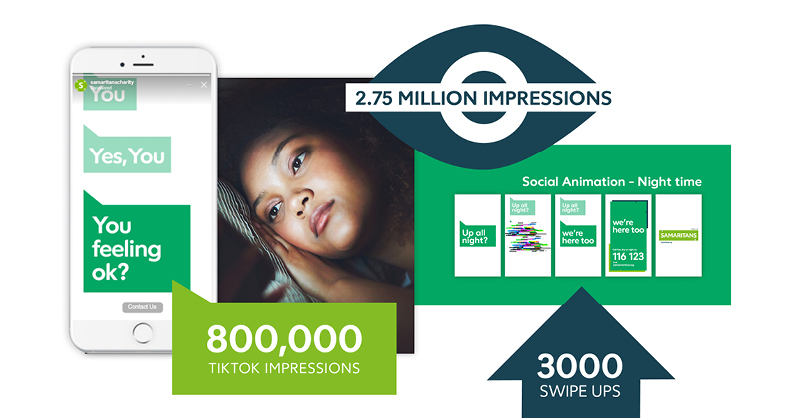 With a relatively small budget and tactical timescale, the 'Up All Night' campaign was a huge success for the charity achieving over 2.75 million impressions across the platforms in Northern Ireland with a population of 1.9 million. This was the Samaritan's first TikTok campaign in Northern Ireland and it alone achieved over 800,000 impressions and almost 3,000 Swipe Ups.
The campaign helped raise the charity's platform as well as engage with an audience that are more difficult to reach and to reassure them that there is support available whenever it is needed.
A massive thank you to our friends at Samaritans for trusting us with this work.