95% of SME's across the Island of Ireland do not have a plan in place for Brexit. InterTradeIreland offer a range of support for businesses to inform and support them through this unchartered territory. They recognise the pressures facing small business owners but also the window of opportunity that exists with Brexit. Their focus is to help small businesses prepare for the challenges and the opportunities that will be presented by the new cross-border trading relationship that is set to emerge over the next few years.
In the space of one month 177,000 lorries, 205,000 vans and over 1.8m cars will cross the border between Ireland and Northern Ireland. In one day it is estimated that 30,000 people make the cross-border commute to work. These lorries, vans, cars and people are involved in a trade in goods and services that now totals close to €6bn a year, growing at an average annual rate over the past twenty years at over 4 per cent. This trade across the border is disproportionately important for small business. The reality of this 'frictionless' land-border for many small businesses is that the all-island market is effectively their local market.


The lack of planning by SME's is driven by two key issues; first an understandable focus on 'the now'. In what is already an intensely competitive market environment for small businesses across the island of Ireland, businesses are focused on the challenges of rising costs of energy, supply costs and overheads, new competition and difficulties recruiting appropriate skills, finding the time and resources to plan for even potentially significant structural changes is a perennial problem. The second issue is the degree of uncertainty that abounds due to a perceived deficit in reliable information, that complicates and constrains the scenario building process.
In response to this, InterTradeIreland offer a Brexit Advisory Service for businesses unsure how to prepare for Brexit; providing practical advice, support and information on Brexit related issues. Their Brexit Planning Online Guide, aimed at SME's starting planning for Brexit, can help address any questions or concerns surrounding the impact the Freedom of Movement may have in relation to Goods, Services, People and Money. They also offer additional support initiatives including 'Start to Plan' vouchers; financial support up to £2,000 / €2,000 (inclusive of VAT) towards professional advice in relation to specific Brexit issues such as movement of labour, goods, services and currency management, and run a series of on the ground Brexit Preparation Events in Northern Ireland and the Republic of Ireland throughout the calendar year.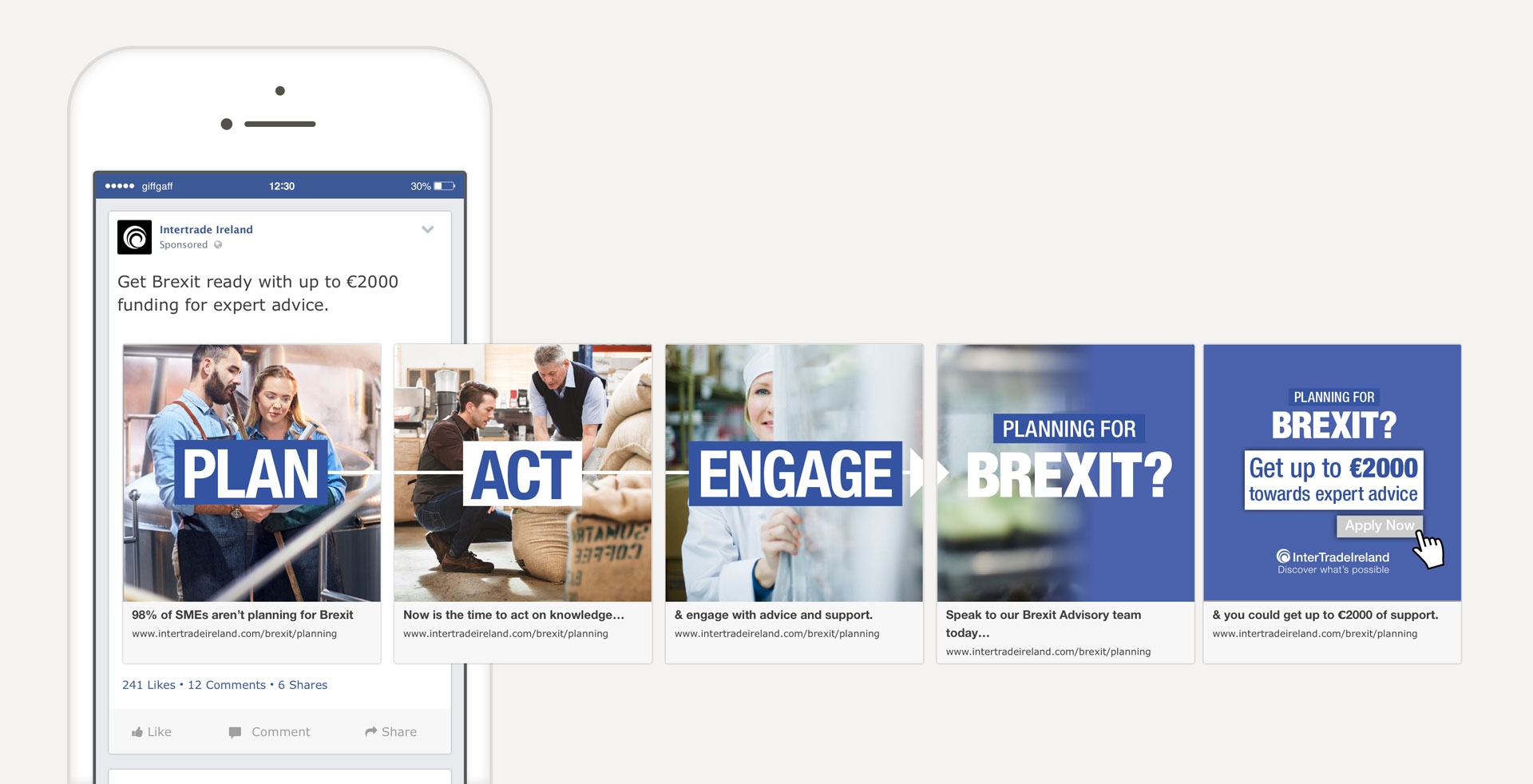 To promote all the great work InterTradeIreland do, we planned a staggered approach for 2017; running bursts of Brexit activity throughout the year to educate SME's on the support available. Our first burst of activity led with the Brexit Advisory Service message. Our second, focused on the financial voucher support available. Our third burst promoted the Brexit Planning Online Guide and our most recent burst of activity, promoted the flagship information events in Belfast and Dublin.
To ensure our variety of messages looked like they were coming from the same body, we developed a consistent Brexit branding look and feel. Leading with industry images to appeal to SME's, our creative is cleanly set with a blue and white palette. A strong headline on each creative drives viewers to the website and social media platforms for further information.
Our activity is running in business press, geo-targeted outdoor and digital / social platforms in Northern Ireland and the Republic of Ireland throughout 2017.